Blue Knob Volunteer Fire ATV Run 2010 – Blue Knob, Pa.
Destinations
— By
awilson
on April 22, 2010 at 10:03 am
Spring Run, Saturday May 8, 2010
Fall Run, Saturday, August 21, 2010
The Blue Knob Volunteer Fire Co will be sponsoring two ATV Runs this spring and fall. The ATV runs will be located in Blue Knob Pennsylvania, on the states second highest mountain. Blue Knob has over 40 miles of trails, and has something special for every skill level.  There will be plenty of free parking as well as money prize drawings.  Hot food and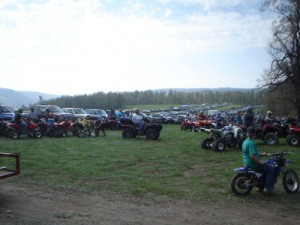 beverages will be sold at each checkpoint on the runs. There will be a $20 registration fee for riders over the age of 12, and $5 registration for riders 12 and under. These runs are open to all ATVs and Motorcycles, however 3 wheel ATCs are not allowed. Helmets are MANDATORY and must be used during registration, and on the trail runs. Registration will begin at 8AM and will close at 1PM the Saturday of the event. The runs begin at 10AM, and no riders will be allowed to enter the run after 1pm. All riders must be off the trails by 5pm. The events will be held rain or shine. No alcoholic beverages are allowed.
For more information, check out the ATV Run website .
Tags: ATV, Destinations, Pennsylvania, poker run, rally
Trackbacks
Leave a Trackback