The "other" side of Moab.
Destinations
,
Headlines
— By
awilson
on April 19, 2020 at 2:52 pm
Looking forward to escaping the stay-at-home orders due to the Covid-19 pandemic, I looked back on a trip we did last year. We visited Moab Utah last June, but not for the reason most think. We did not follow the parade of side-by-sides on trailers or extreme Jeeps, leaving Moab City every morning heading towards the OHV to tackle Hells Revenge. We where there for the 2 sister National Parks that border Moab, Canyonlands and Arches National Parks.
This trip was, if I can be honest, an after thought. Originally, we had planned to hit Ouray and Teluride after a concert we had in Denver. But the extended snow season Colorado experienced last year caused the high mountain passes we wanted to explore, to be impassable. So a few weeks before we left California, I completely rerouted our plans, every part of the trip I had spent months planning had to be redone, except for the single overnight in Denver. The resulting new plan did not have me extremely excited. I wanted to visit Moab at some point, but it was far below Black Bear Pass in my bucket list. But, this was our first real trip in our new-to-us RV and I was determined to make the best of it.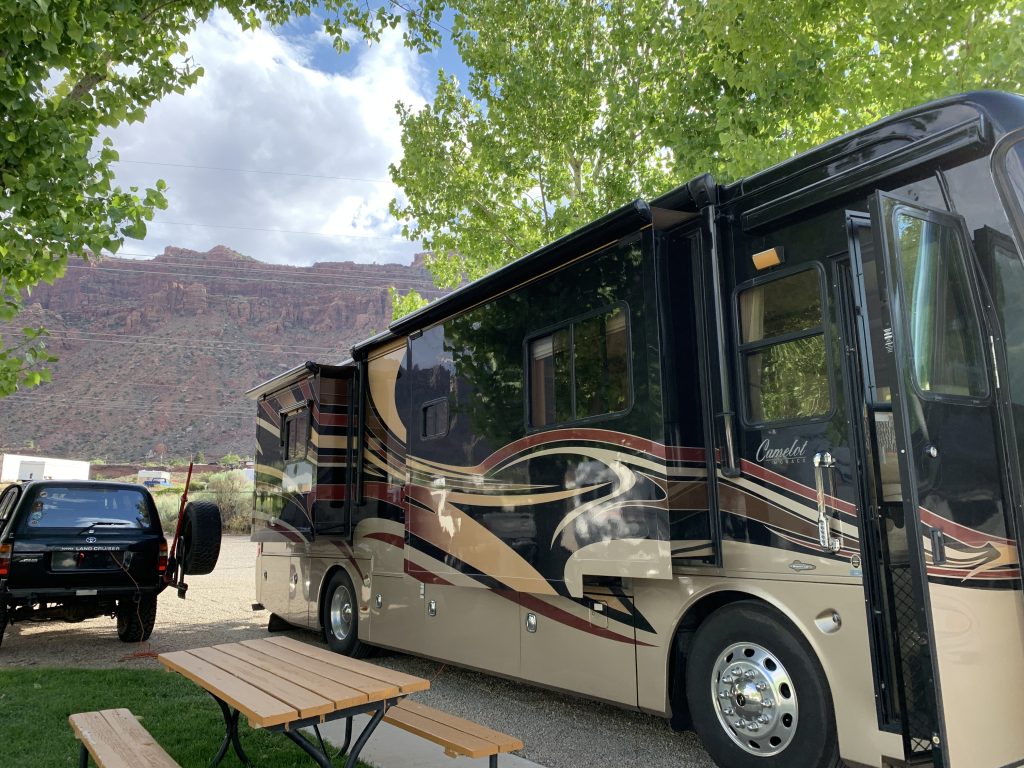 We arrived in Moab in the late afternoon after a beautiful drive across I70 from Denver. We drove through town and a bit south to the Spanish Trail RV Park and settled in. I recommend this park, although a bit outside of town, the views and price make it a gem. We took a quick drive back through town to watch the wonderful madness of off road vehicles and other toys cruise the main drag, then returned to camp. We had one full day to explore the National Parks, so we turned in early, for an early rise the next morning.

Early morning we packed up lunch and snacks for a full day and headed north over the Colorado River to Hwy 279 which follows the Colorado River at water level, west, through the gorge. Canyon cliffs rise high on each side as you drive this section. The highway terminated at a potash facility and turned into Shafer Trail. The trail is a winding old mining road that leads into Canyonlands National Park. Almost any high clearance all wheel drive vehicle can do this route in dry conditions, but there are a few spots that become muddy after a rain, so be aware. A few days before we left, I had scouted via trail maps and satellite imagery, an off shoot a little ways into Shafer that I wanted to check out. There are a ton of little used, but legal offshoots from Shafer as most of the traffic is average street vehicles that ignore the double tracks leading into the middle of nowhere. Just my kind of trail! At the end of the offshoot, we found our selves, alone, on a beautiful river overlook. We took a break and headed back to the main Shafer Trail.

After a bit on the trail, and getting closer to the mid plateau, we finally ran into some other travelers going in either direction. The trail is bi-directional, so be aware along the few blind corners. If you find yourself at an overlook with too many travelers… just go around the next corner… there are so many climbing gradually up the canyon walls, from bluff to bluff.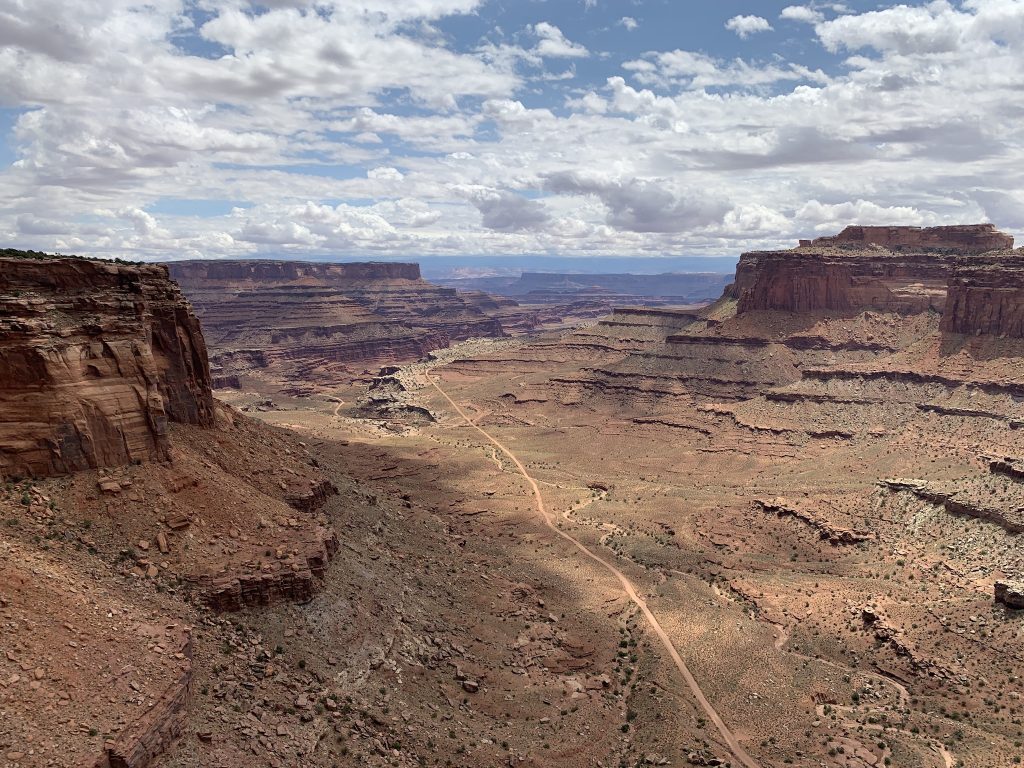 Once we hit the mid plateau, we made the decision to climb all the way out to the top plateau (the tourist part of Canyonlands) via the Shafer Canyon switchbacks. A narrow set of switchbacks that take you from mid way down the canyon wall, to the top. The views are spectacular with many places to pull off and take photos. If you are weak of heart, look out, not down!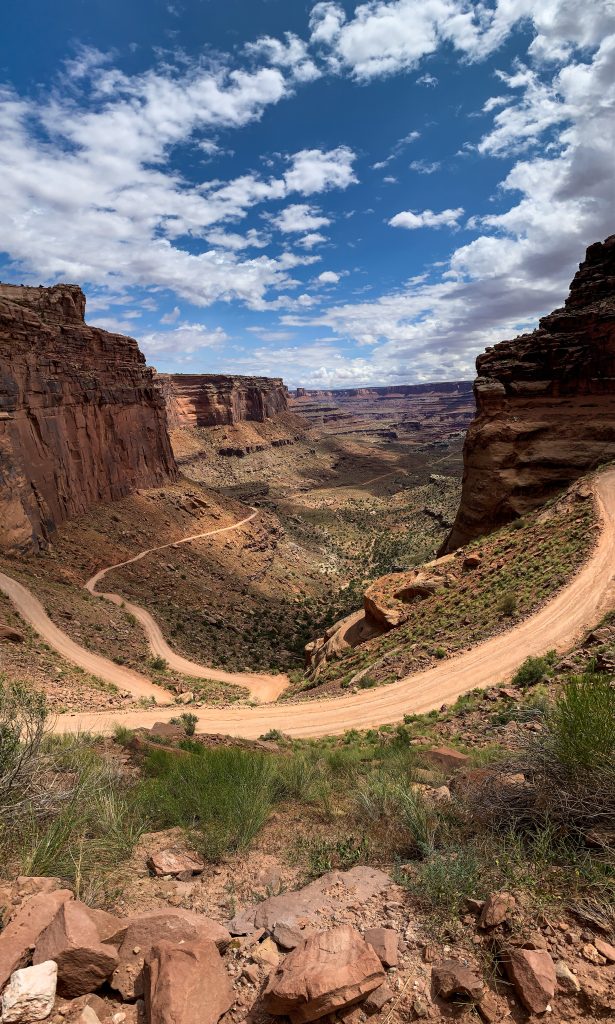 Once at the top of the trail we joined the main paved road that traverses Canyonlands NP. We drove to the end with the hundreds of other tourists and eventually found a flatish place to park and eat lunch. We tried to visit the famous Mesa Arch, hoping that midday might allow for a photo of the arch without dozens of people. No such luck. I'm not sure why people feel the need to stand IN the arch talking on phone call for who knowns how long… while people patiently wait to take a photo clear of their presence. I never got one. The top is nice and all, but too many people for me. We decided it was time to leave Canyonlands and head to Arches National Park right next door.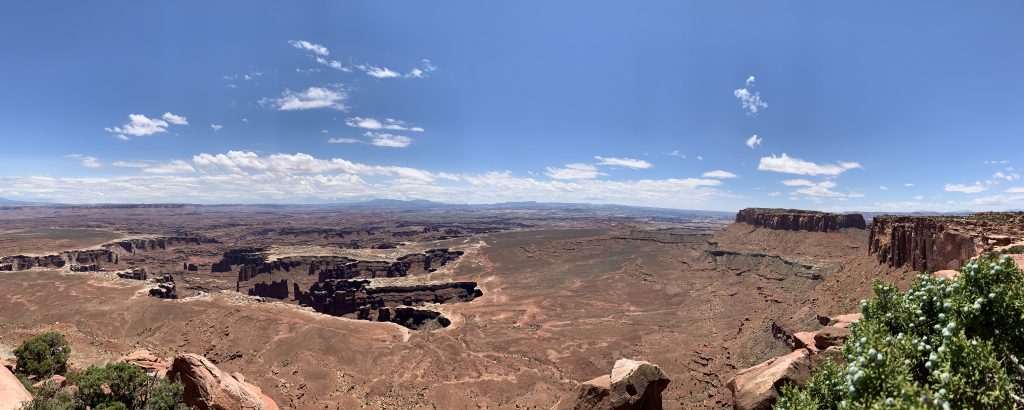 Canyonlands is know for its breath taking vistas, and Arches is know for, well, you guessed it, natural rock arches. The park was also packed with tourists, every arch we stopped at, and even hiked into a bit was crawling with people. After a couple stops (don't get me wrong, even with dozens of people around, the arches are magnificent!) we took a quick break.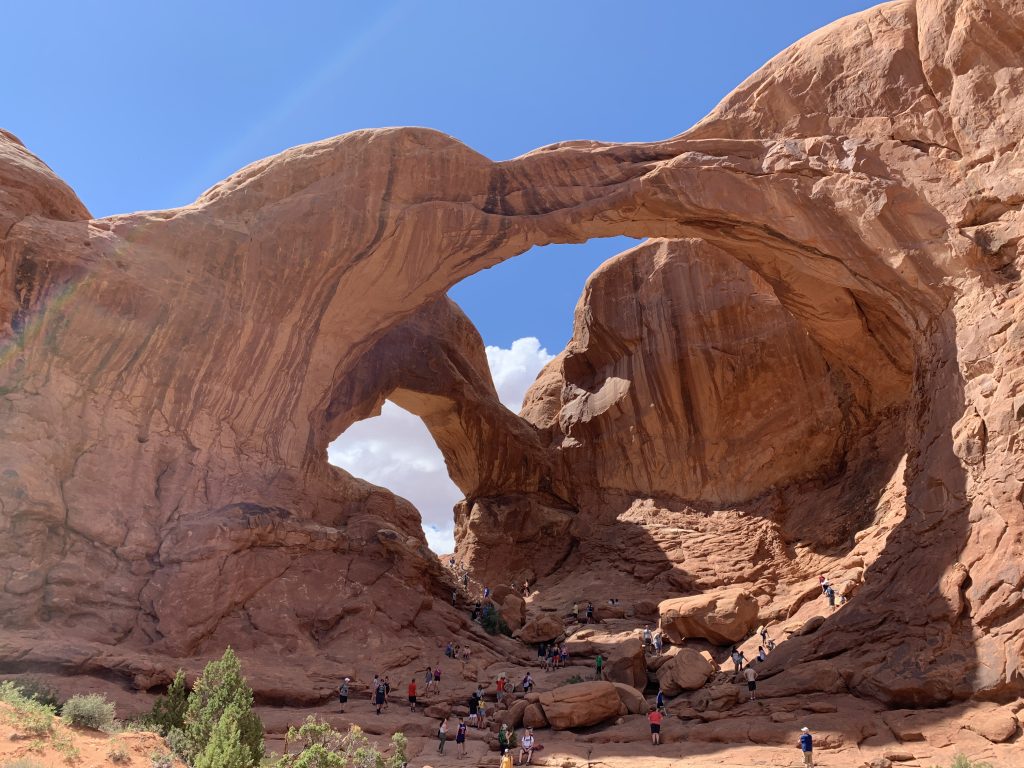 The afternoon was getting long and we decided to make for one, off the beaten path, arch called Eye of the Whale Arch. This arch was off the main road, down a dirt turnoff that looked like it lead to some park services but didn't. Down the road just a ways was a right turn down another trail. This trail is NOT recommended for less than a real 4×4 with low range and ground clearance. There are several fingers you must go up and down into shallow canyons. Sand mixed with rock made the path challenging but not difficult. When we got to the parking spot for Eye of the Whale there was no one to be seen. Absolutely perfect! After a short hike in, we arrived at a pristine arch all to ourselves. We enjoyed the arch at our leisure, and as we were getting ready to leave, one of the local offroad tour vehicles parked and started heading our way. We enjoyed a last few solitary moments and headed back to our truck, content in finding some peace among the tourist mayhem.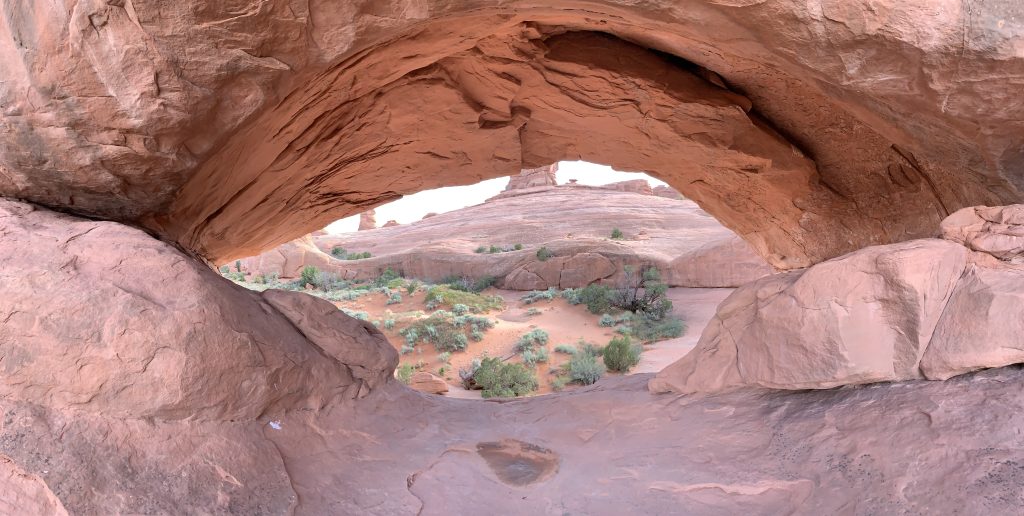 We circled back to the main dirt road and continued west, after discovering it was an exit. The road was mostly well bladed but there was a couple sections where a flash flood had washed out and definitely needed 4 wheel drive and some clearance. We stopped for a well deserved dinner and brew the The Atomic Grill & Lounge in Moab then went back to the RV for a relaxing night, leaving for home the next morning.
Thank you Moab for making what started as a disappointment, having to change our plans, into a wonderful and beautiful experience!
Canyonlands National Park: https://www.nps.gov/cany/index.htm
Arches National Park: https://www.nps.gov/arch/index.htm
Tags: Arches, Canyonlands, Moab, National Park, offroad, utah
Trackbacks
Leave a Trackback