Fire and Brimstone please… hold the fire.
Weekend Adventures
— By
staff
on April 22, 2010 at 3:53 pm
Story by: Michelle Hill
Huntsville, Tennessee is a small town with a population of a little over 1000 people. Now, in a town with such a small population, some people might wonder why anyone would want to visit without having family there. I wondered the same thing when two years ago, Bill "Porkchop" Chapple from J-Strong Industries invited us to come over and ride. In that tiny town, there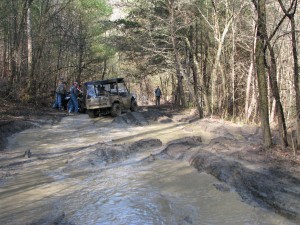 lies a little piece of paradise called Brimstone Recreation. This area is 20,000± acres with over 70 trails covering over 300 miles. And they continue to build more trails every year.
When I think of Tennessee and riding back east in general, I think of mud and lots of it. Now I know it's not all like that but stereotypes are hard to get away from. So, imagine my surprise when we get there and see beautiful rolling hills, trees and lots of rock, which, of course, is my personal favorite.
We scheduled our trip to coincide with Big Mike and Flash Gordon's Tour for a Cure to benefit Cody Johnson's Race to Cure Blindness fund-raiser. They are visiting a few different states and meeting up with forum members who can pledge money to the cause. Check them out on rzrforums.net, you can keep up with their progress.
We flew in a day to late to ride Brimstone with Big Mike and Flash Gordon and since we didn't want to miss out on Brimstone we rode one day there and were going to meet at Windrock on Sunday to ride with them. While at Brimstone we joined five other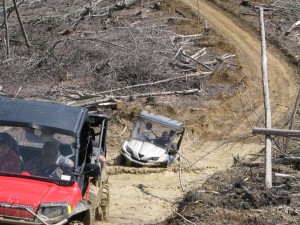 vehicles and were shown some great trails by some locals and the owner himself, Mark Love. We were treated to mud, narrow trails, hills, numerous water crossings and of course, good ol' southern hospitality. We traveled on trails 1, 103, 104, 105, 3, 86, 87, 95, and 89; By mid afternoon, as soon as we got to the good rock stuff (89), we broke an axle on Porkchop's rhino. We were able to limp it back to the Brimstone office remove some of the mud and change the axle, but by the time it was fixed we were starving and decided to call it a day. Now, when I say mud I don't mean just a little caked on to the bottom of your vehicle, I'm talking major mud, caked on the floor boards, the hood, the a-arm guards, in the bed, under the seats and basically everywhere. In order to remove this caked on muck, your best bet is to find the nearest pressure washer. The next day we drove down to Windrock (about an hour away) in pouring down rain. We came prepared for rain and figured we were going to get wet at some point during this trip but as we drove through rain so heavy it looked like buckets were being poured out onto the windshield we talked ourselves out of it. Instead we met up with Big Mike and Flash Gordon and enjoyed the scenery while staying dry.
The two riding areas we visited in Tennessee are definitely worth visiting again. Check out Brimstone Recreation and Windrock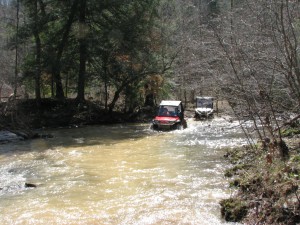 Park online where you can find the specifics on both parks.
While I love Moab and the rocks, I am certainly open to new experiences and Tennessee didn't disappoint. The area is beautiful and there is plenty of riding that can suit any type of rider. Next time, we plan to make it back to the area sometime in the fall in order to see the trees at their best.
Tags: Destinations, mud, Rhino, side by side, Tennessee, utv
Trackbacks
Leave a Trackback