One Toy for All
Toys
,
Toys Hi-lite
— By
edurkee
on April 26, 2010 at 9:32 am
Today's market for toys, including buggies and SxS's has more than enough choices to create a research nightmare. Do you want a buggy or a SxS? Do you want to go fast or slow? Street legal? Automatic or manual transmission? The options are nearly endless. And then, you have to consider, who will be driving it, and where? Finally, how are you planning to haul it? Will it fit in your toy hauler? What about your other toys? Well, today we're going to show you one selection that will certainly answer most of your requirements in a, compact package.
When in the market for a reasonably priced toy that can do everything well, look no further then the Predator X18. The Predator Motor Corporation of Temecula, Ca is the manufacturer of the Predator line of X18 vehicles. These vehicles include the "K" model which is a kit version, the "S" model which is a SCORE legal race version, and the standard play version, which has no letter designation, just X18. There's a model for every need and budget.
The standard model X18 has nearly everything a buyer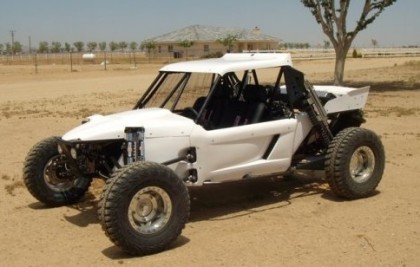 could want in a small buggy, besides the fact that it's barely larger then the typical SxS. Consider that the standard X18 is only 12' long and capable of fitting in most toy haulers, even those with garages. The list of standard features is huge, including bypass shocks, a CVT (continually variable transmission), heated seats, 5 point harnesses, power steering, etc. All for a starting price of $19999. Many owners of a Rhino or other SxS spend at least that much trying to make their toy half as capable as an X18. With a standard 20" of front wheel travel and 18" rear travel driven by a 170hp 2.2 liter GM Ecotec motor, no SxS can come close. As for other buggies, well the market is limited for small economical buggies, and while there are a few choices coming to market, they're still substantially more expensive.
The X18S adds a few necessities to the standard model make it legal to race. Included in the "S" package are heavier walled tubing, extra chassis gussets, and a hydraulic ram steering assist. All the new owner has to add is a fuel cell and whatever lights are required by the racing organization, and you're ready to race. There are even a few classes that the Predator was designed to fit, including Class 3000 in MORE, BITD and SNORE, along with Class 2 in SCORE. Again, there's nothing else on the market with this much capability at this price, eligible to race in these classes. Yes there are less expensive race cars, but you're either loosing the power and reliability of the Ecotec motor or the plush suspension that comes with the German Vogtland suspension that is standard on all Predators.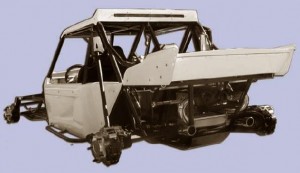 With the mention of racing, it has to be said that in the past year, the Predator X18S has surpassed all expectations. Not only did it finish the 2009 Baja 1000, but finished first in class. Considering this was the first race of an amateur team, this is a huge accomplishment. More recently, a Predator X18S was the first car to finish the Libyan Rally, a 1600 mile race with 176 entrants through the deserts of N. Africa. There are also a few more Predators racing now, both in short course and desert including the car driven by this writer's wife in the MORE series. There's will be some race stories to follow at a later date.
For the do-it-yourselfer, the X18K may just be the way to go. For about $12k you get the completed chassis, fiberglass body, front and rear arms, pan, spindles, seats, dash, gauges, gearbox, etc. All you need to add are suspension components, motor, clutches, and a few other odd and ends. All required parts are bolt-on, no fabrication required, so most shade-tree mechanics can build their own car as time and budget allows. Most of the parts on the X18's are considered COTS, or commercial-off-the-shelf. This means that many off-road/buggy shops will have replacement parts to fit your Predator. Very few specialized parts are used, making building and maintenance simpler. And the best part, if you run into a problem, Predator Motor Corp has all the parts you need.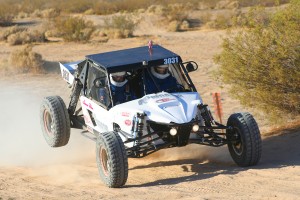 To be fair, we are the proud owners of an X18S, one of the first ones Predator built and one of the first ones to race. We also own a mildly modified Yamaha Rhino, so we have a good take on the differences and capabilities of both vehicles. Each vehicle type has its own focus, and there is a fair amount of overlap, but that is also dependent on the end user. Hands down, the Rhino is better for working around the property and maybe dragging the yard or hauling firewood. Put it in the desert, and it's fun, but relatively slow and lacking in suspension. Take the Predator to the desert and it'll blow the Rhino away, and while you can get an optional hitch, the Predator just isn't as convenient for doing maintenance around the yard. If you decide to do some technical trail riding or hunting, the Rhino will be much more capable. Being substantially narrower and 4-wheel drive, the Rhino can fit through trails that are likely to leave the Predator stuck.
What's on the Predator horizon? Well, rumor has it that there's a manual transmission version of the X18 in the works, for those die-hards that like handling their own shifting duties. There are also some rumors of alternative power plants and I know of at least one turbo X18. Then to really go over the top, one of the first Predator owners has modified his with a manual transmission and a V8 motor and is currently racing in a short course series in Arizona.
So before you make your next big purchase, consider having a look at the Predator X18. Whether you want to race or just play in the desert, the Predator can do it all. And if you want to customize it, you can buy the kit or avail yourself of all the options available from the manufacturer. Ranging from extra lights to full carbon fiber bodies, Predator Motor Corporation will get you exactly what you want without breaking your wallet or your trailer.
Predator Motor Corporation
28690 Old Town Front St. Suite 370C
Temecula, CA 92590
951-259-3339
[email protected]
Tags: car, dune buggy, Predator, race, review, sand car, utv
Trackbacks
Leave a Trackback