Crown King Az. 24th Annual Chili Cook-Off Ride
Destinations
,
Weekend Adventures
— By
staff
on April 26, 2010 at 4:12 pm
By Brian Rodgers
Nestled in the tall pines of the Prescott National Forest sits the Town of Crown King, It is an old Gold mining town about 1 ½ hours North of the metropolitan Phoenix area, and the destination of our ride.   It was time for the Crown King Chili Cook-off, an event that brings off-roaders out in force on the trail systems surrounding this quaint little town.  There are several different trails that lead to Crown King, our choice was what is known as the "Back Way".  It is a well known, and well traveled trail.  This particular trail is known for its difficulty, as well as its beauty.  We found a great place to set up camp about 3 miles North of Lake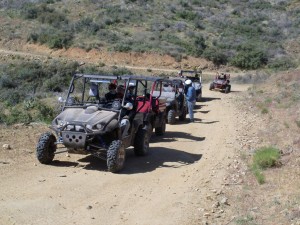 Pleasant Regional Park off Castle Hot Springs Rd. Lot's of flat open area's to park, whether you plan to camp, or just come up for the day.  From our camp the ride to Crown King would be some 27 miles.
So, figuring the time it would take us to go these 27 miles, the plan was to get on the road by 8:30am, arriving in Crown King around 11:30am, just in time for the Cook-off.
We had some 8 UTV's, 6 or so Quads, and a couple dirt bikes making the trek, so it was more like a 8:45am departure by the time we all were ready to go.  The first few miles are on a nice smooth graded road, only needing to slow down in one area where there are a few residences.  Once we made it to the actual trail, it began to get somewhat rocky with small hills from time to time.  As the trail went on, our leader Rich, stopped periodically to let us take is the scenery.  Since our camp was at an elevation of 1,900 feet, and our destination is at an elevation of 6,300 feet, the farther up the trail we went, the more scenic it became.  Once we arrived at "CK Rock", which is a large boulder that was painted with the letters CK.  This was where the trail split, to the right was the shorter mileage, but more difficult route.  To the left was the 8 mile longer, but easier route.  We chose the right, and let me tell you; all I have heard about its difficulty was realized.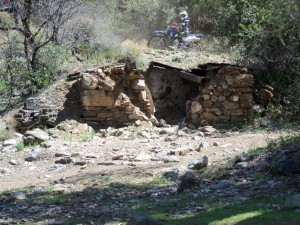 The trail at this point gets somewhat technical, it had become eroded, and generally tore up from the years of rain, off- roader's, etc.  There are some hills that are really bad, but there are trails that run adjacent to them that are easier for the quads, bikes, and utv's to make it up. Typically Jeeps use the rougher more challenging climbs.  All through the trail at this point were plenty of step-up, stream crossings littered with boulders you have to navigate over and /or around.  A few of these required spotters to guide you, and a few times help push you over the rocks. Or in my case, hold the front end down to keep from going over backwards.  The good news was that this was the last of the technical stuff, the trail after that was semi smooth and probably the steepest incline of the trip, but it was basically the last section before we entered Crown King.  Once we topped the hill you could smell the pine tree's,  we were on a nice reddish colored dirt trail that wound us around through tall pine trees, tent campers along the sides of the trail, and then into
the small town of Crown King.  It was crowded with all kinds of vehicles, from trucks, to UTV's, to motorcycles and regular passenger cars; this was big event that people attend year after year.
Tired, and ready to get out of our vehicles, we find a place to park, and go explore the town. All in all it took us just over 4 hours to make the trip, not bad considering you are somewhat at the mercy of other riders on the trail that may slow you up.  The ride back was faster and far less technical.  We rode a trail called Minnehaha; it was a nice change from the trail we took up, mostly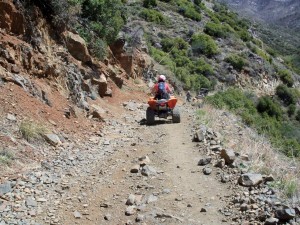 because it required less energy to manage.  There were all kinds of history to see as well, there was an old mine, corrals, and broken down buildings from the 1800's.  The ride back took a bit more than 2 hours to complete, the last hill we topped gave us a great view of Lake Pleasant, and we knew we were home.
In addition to the Chili Cook-off, Crown King offers things to do and see virtually year round, although given the elevation, snow is present in the winter months and it would be advisable to check the weather and road conditions before heading up.
How to get there:  From Phoenix, take I-17 North to the Carefree Hwy(Hwy 74),
Turn West and drive until you reach Castle Hot Springs Road, (this is actually the 2nd entrance into the Lake Pleasant Regional Park), take a right and follow that road until it ends then go left, the road will be dirt at this point so go slow as it has a lot of washboards.  Follow it back about 3 miles then look for your prime spot to camp.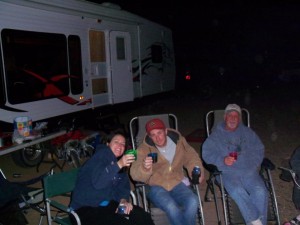 GPS Via Google Earth:
Camping/Staging Area-  33  56'37.79N   112  18'46.36W
Crown King- 34  12'20.66N   112  20'19.20W
Check out these sites for more info:
Tags: 4x4, Arizona, ATV, bbq, Destinations, family, off-road, recreational vehicle, RZR, side by side, Toy Haulers, toyhauler, utv
Trackbacks
Leave a Trackback