Be careful out there; how one family's offroad trip turned up-side-down.
Destinations
,
Headlines
,
Tips
,
Toys
— By
awilson
on January 5, 2018 at 1:58 pm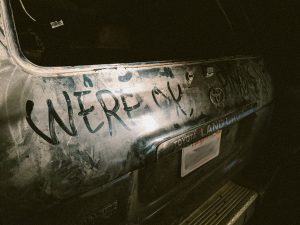 Forward from the editor: This has been posted with permission. Story originally posted on the Toyota 4×4 forum; iH8Mud by member Xepyt (Richie).
I am putting this up here as a reminder to everyone (including myself) that things can go wrong, really fast. Be safe and have fun!
"Last week my fiancee, puppy, and I headed on our first major trip after overhauling our LC. As the title suggests, the car was totaled- here's the whole story if you're interested…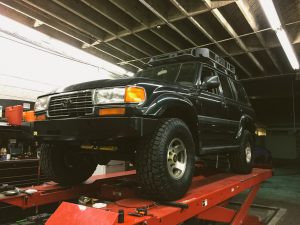 Back in September the startup I was working at went under, so I decided to use my newfound vacation time and severance check on an LC80 adventure rig for the family. We love the outdoors, but my '99 2WD Pathfinder just wasn't cutting it. A few weeks later I picked up my new daily driver, a stock 3X locked '97 40th Anniversary w/ 150k miles. Since picking it up I've base lined it and did most of the usual go-to mods (tires, suspension, bumper, rack). We haven't taken the cruiser on a big trip yet so after much planning we decided on a 5-Day adventure in Death Valley for the holidays.
Steve at RPM Garage (Monrovia, CA) burned the midnight oil to get my OME lift installed and aligned before the trip. He even opened the shop for us on Christmas Eve to pick up the truck, giving me just enough time to replace the grill and plasti dip the wheels black.
Tuesday, 12/26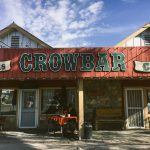 We get off to a late start driving out of Long Beach around 9AM. We head straight to McDonald's: a sausage egg mcmuffin and mcgriddle have become somewhat of a pre-trip ritual for us.
By 11 we reach Barstow to stop at a local Harbor Freight for some miscellaneous supplies. A quick fuel stop math reveals 13MPG with the new setup fully weighted- I'm pleasantly surprised.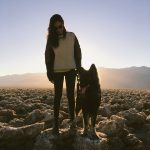 We grab lunch at a quaint diner in Shoshone called Crowbar Cafe & Saloon before heading into Death Valley through the 178. My fiancee takes the wheel since we're heading through mostly paved roads.
After a quick photo for the gram, we air down and switch seats before we head towards Echo Canyon Road for the Inyo Mines and our eventual camp area for the night. The terrain is pretty dull for the first few miles until you reach the canyons.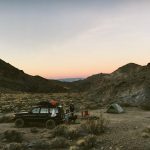 The change in terrain is quite beautiful and my fiancee even spots a herd of rams near us. Alas, we couldn't beat the dark and there was no mine in sight so we decide to setup camp and check out the mines in the morning.
Wednesday, 12/27
We wake up early for the long day ahead of us. Funny enough, the mines were just around the corner from our site, but we were glad to have sunlight while checking it out.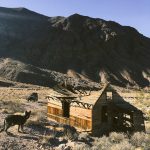 As we head out of Echo Canyon we notice Needle's Eye Arch- we were completely oblivious to it in the dark the night before.
Our next stop is Beatty, NV for our final gas stop and supply run of this trip. We quickly realize that there are no grocery stores in Beatty so we end up rationing a hodge podge of food from the RV mini mart, Dollar Tree, and Arco- splendid. Not much to see so here's a doggo pic.
We reach the entrance for Titus Canyon Rd, my fiancee chooses to take the wheel- she wanted to get in on more of the non-paved action and from what we've read Titus is pretty mellow.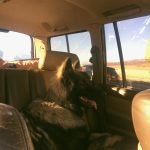 Cheesin at Red Pass. We reach Leadfield Ghost Town soon after- not much to see here so we carry on with our drive. I have to mention that we spotted a Hyundai sedan out there on street tires, the road isn't crazy but pretty gusto nonetheless.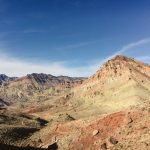 It's pretty amazing how diverse Death Valley can be, one moment you're peaking in red rock covered hills then surrounded by petroglyph littered limestone the next.
We jump onto Racetrack Rd. towards Ubehebe Crater. Unfortunately it's almost daybreak and we still need to get to the Racetrack so we decide not to hike in. We make some freeze-dried orange chicken and rice as a quick lunch before hitting the road. I won't lie, even though I'm asian I loveeeee orange chicken- it's so bad it's good.
I air down again to prep for the harsh washboards that await us. I was expecting bone shaking washboards, but the ride was relatively mellow. Maybe the road was recently graded or perhaps the new 35″ Toyo Open Country ATIIs and the OME lift were doing their job- "yeahhh must be the latter", I justifyingly tell myself.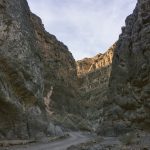 We're extremely lucky that our 6 Month Old Shiloh Shepherd loves being in cars. He's a mellow puppy and slept through the whole ride.
Obligatory Tea Kettle Junction photo, it was nearly dark so we pressed on to Homestake Dry Camp. We found the first set of friends we were meeting up on this trip ('99 4Runner & '02 Montero).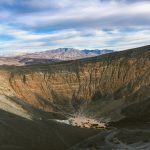 We were also greeted by our camp neighbors Andy and Mercedes. Andy is head of digital marketing at Warn winches and Mercedes works at Nike, but they are both passionate about cars and gear. I didn't grab a photo of their sweet '89 Mitsibushi Delica, but here's one from their instagram. You can find more info on it under their handle @crankshaftculture.
Thursday, 12/28
We wake up early to catch the Playa before sunrise. We were quickly advised that dogs were not allowed on the Playa, but we were able to grab a quick photo before taking the pup back to the car.
After some breakfast with the crew we decided it was time to hit the road to Lippincott.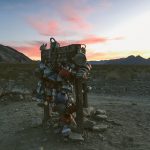 I've heard ranging reports about Lippincott's difficulty and they were all true. Most of the drive was narrow and steep, but manageable in 4L. I wish I had done the 7-Pin/CDL switch mod prior to the trip as there are a number of switchbacks that stress out the drive-train in locked mode. I had to disengage 4L a couple times because of this.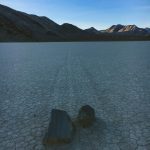 The Montero is such an underrated car, these things rule and are super capable.
There is one section of Lippincott that is particularly cambered throughout, I'm surprised our buddy's rear motorcycle hitch mount cleared most of the obstacles with little issue.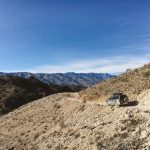 No better way to end the trail than with a pair of A-10 Warthogs performing low passes right above us.
T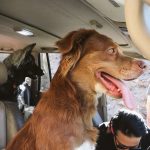 he Accident
Here's where this trip report goes south- so here's a group puppy photo to lighten things up
After Lippincott my fiancée asked me if she could drive the remainder to Saline Warm Springs so she could get some wheel time before the end of the trip. We had planned to go Eureka Dunes the next day via Steele Pass and that would be too technical for her comfort zone.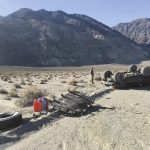 A few miles down from the road we reach a crested slight left turn. My fiancee apexes a little early and the car begins to fishtail ever so lightly. She attempts to counter steer her way through the turn, but being lifted and top heavy with our spare + gear + extra fuel the weight transfer on the car is very apparent and steering input is crucial. By the second counter-steer our rear tire hits the outer burm of the road and I feel the back end hop and the car starts to roll… as the car comes to a halt I try to stay calm throughout- no time to think about what-ifs or shoulda coulda's, I need to make sure my family is OK.
I find myself kissing the the roof of the car but I'm able to un-belt myself with ease. I hear a scream from my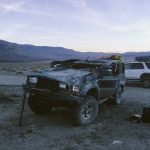 fiancee and I immediately get sick to the stomach. I've heard my fiancee scream before, sometimes because a spider gets in the room and sometimes even in jest, but this is a scream that I have not yet been acquainted with- it was blood curdling. I reluctantly look over, but miraculously she had no visual injuries and was not pinned in any way. I make sure she has no neck/back injuries before un-belting her and pulling her out of the car. Immediately we embrace but we notice that our puppy is gone.
I tell my friend who was following us to flag down some help as my fiancee and I spend the next 3-4 hours tracking paw prints throughout the desert and mountain terrain. We should have probably better evaluated ourselves, but we were running on adrenaline and needed to find our dog. The second half of our crew met up with us on their KTMs and went off road to aid the search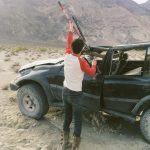 As I walked back to the wreck I noticed our car was flipped right side up. A man walks over and introduces himself as Luke (owner of 4X4Labs), serendipitously he was on holiday in DV as well. He mentions that while we were gone he flipped our car over with his LC100. He quickly took the helm and devised a plan on getting our car out of DV. One of the tires popped the bead so we swap out the spare and made sure we had pressure on the rest. Steering was good, drive-line was straight, and brakes still worked- the truck was tow-able.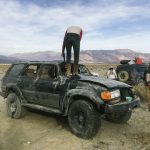 As the sun began to set, someone noticed a dark figure approaching the crash site- it was our dog. This was unreal, we made it out of the wreck virtually unscathed and our dog found his way back to us. We quickly packed what we could then headed to Saline Warm Springs to camp for the night.
Friday, 12/29
We woke up knowing that the nightmare wasn't over yet. All the dirt bikes and hot springs couldn't get our spirits up, we knew that we still had a long day ahead of us.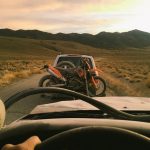 Once we got back to the crash site we realized how bad the accident could have been. On top of that,
scavengers got away with our hi-lift and a few other personal belongings. Really? Anyway, we had another hi-lift at our disposal, Luke made good use of it to raise the roof line of the car.
We attached a tow strap to the back of Luke's car and headed out on our 55 mile journey out Death Valley. I put on a balaclava and some goggles, this was gonna be a s***ty ride.
There's something unnerving about being towed on a 15ft tow strap in a lifeless car. Keeping tension so as not to shock the line is important, but can become a challenge while traversing offroad. I just kept telling myself, "Please don't rear end the KTM".
Downhills were the worst, on top of having to manage constant tension on the tow strap my brakes began to give out 10 miles before the home stretch. The brake pedal went instantly to the floor, I high-beam/honk at Luke while pulsing the parking brake to a stop. After the brakes cooled, we took it slow and finally made it out to Big Pine. The worst was over and we could now finally grab a celebratory beer at Rossi's.
Luke offered to have the car flat bedded back to his shop in Grass Valley to help part it out. The car was a total loss for me, but a low mileage LC80 with new parts could be useful for someone else. If you're looking for anything in particular keep an eye out, let Luke know if you might need something.
I was originally hesitant on posting here on such an open forum, but it many ways it's been cathartic for me to recount everything that has happened. The cruiser is an unfortunate loss, but at the end of the day it's just a car and hopefully I'll be able to replace it someday. When I really reflect on it I realize that I'm still alive and so is my family- truly, that's as best case scenario as it gets.
Another takeaway I have is how great this community really is. I met so many people along the way while building this rig and everyone has been so unconditionally helpful. Frank (Yodateq) helped source some spare parts for my build, Dan (VCExpedition) lent a helping hand when I purchased his Con-Ferr rack, Steve Chen (Toyo Tires) for getting rubber sorted on short notice, Steve (RPM Garage) for putting all the work to get the car dialed in time, and of course Luke (4X4LABS). Oh- and if you're carrying lots of weight up top like I was, do yourself a favor and pick up a 4X4 Labs bumper to lower that COG. Keep supporting this community and it's vendors- and always count your blessings.
Cheers,
Richie"
Tags: accident, Death Valley, Death Valley National Park, offroad, Tips
Trackbacks
Leave a Trackback