Rigid Industries RV LED Review
Accessories
,
Headlines
— By
dskelton
on March 15, 2011 at 9:14 am
Like the kid that was told plastic was the next big thing, I remember my Dad telling me that LEDs were going to take the place of incandescent bulbs some day. I watched and waited while the technology started getting better. So when LED's started becoming available for RV's, I started buying and trying them all. I bought them from E-Bay and several different vendors. I was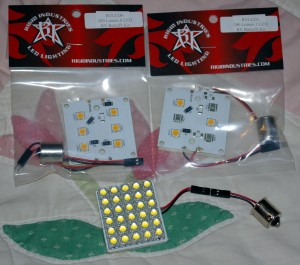 very disappointed, all of them would only last a couple trips before they would start to fail. One even scared me when it failed. It got so hot that the glue inside the bulb melted and the light came apart inside the housing!
I came across Rigid Industries and saw that they had a new plate style LED. The Rigid LED lights are direct replacements for standard 12v lightbulbs in your current Toy Hauler. I bought a few to test out and found they gave out as much light as an incandescent while using a lot less power. I had such great luck with the Rigid Industries LED's I bought more and have been using them for over a year and half with no problems.
I missed the Super Sand Sport Show in 2010 and decided to have my own show and go down the Vendors list and see what was new. I saw lots of cool stuff, but when I got to Rigid Industries website, I saw something really cool, New RV lights! I called Rigid Industries and order a couple of their new lights and waited for the UPS guy!
When I got my care package I ripped into like a kid on Christmas and squealed when I saw the lights. While they weren't completely new, they were different from the old ones. Better mounting tape and different LED's, but just as bright and still 1/8 of an amp draw to use. I got one 400 lumens light and one 315 lumens light. I installed them in the main cabin and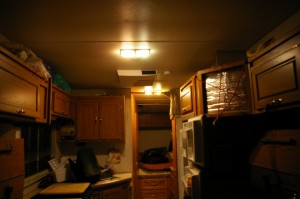 moved the old Rigid LED's to another location and tried them out.
The first thing I noticed, they are a whiter light. The old ones were more yellow like the old incandescent lights. Now this could be bad because my wife hates the white industrial light feel of some of the LED's, but these are not a bad white just a brighter white.
It is a clean light, not too white, or blue, just right. The 315 lumens light has half the number of LED's on the board and is as it sounds, a little dimmer and I mean a little. They are great bedroom or bathroom lights or where ever you need just a little less light.
I have been running the new LED's for 6 months now and not 1 problem and the old style Rigid LED's for 1 ½ years with no problems. I am super happy with the lights and have no problem recommending them to anyone.
http://www.rigidindustries.com/
Tags: 12v, incandescent, L.E.D., led, light, lights, replacement, review
Trackbacks
Leave a Trackback