Rigid Industries Diablo Flashlight Long Term Review
Accessories Hi-lite
— By
dskelton
on March 15, 2011 at 8:48 am
While looking at all the cool stuff on the Rigid Industries Website, I saw a tab for Flashlights. I checked them out and thought, well I am placing an order anyway, and I need a new flashlight! So I ordered a Diablo Flashlight with some RV lights. When I got the box, I opened it and did the guy thing; I tried it out without reading the instructions. Wow!!!! This thing is bright and I mean BRIGHT… It throws a good pencil beam of light and it throws it far!! I read the instructions finally and put the batteries in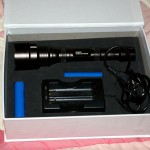 the included charger and waited till they were good and charged and it was dark outside.
I went outside and fired up the flashlight, DO NOT POINT THIS THING AT ANYONE.  My block is 350 feet long and I easily lit up the street signs at the end of the block. I then tried the street signs at the end of the next block, yep, lit them up to. I went for the next block but it is a good 1500 feet and while it was throwing the light it didn't light up the signs.
Fast forward to our next camping trip, it was late when we got to the campground and the Diablo really helped us find our obscure spot. Also helped me find the best route to the site, glad I have 4 wheel drive! I used the flashlight for a nice night walk with the family and it really lit up everything and with the bright white light, everything was in great detail. But, the stunner of the weekend was an impromptu Flashlight battle the next night. Someone was looking for something and brought out there Streamline flashlight to help. Well my buddy grabs his $600 HID flashlight that looks like a World War II grenade launcher and tries to show off. I grabbed the Diablo and had putting away his expensive toy! While the HID was able to throw light farther (not by much) it wasn't as white as the Diablo's LED's. Everyone in camp was impressed and a couple of people were set to order that night!!
I have had the Diablo for 6 months now and have given it a good torture test. I have dropped more times than I care to admit and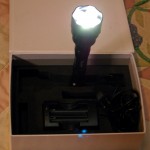 have run the batteries down to ZERO more than once and every time the lights come right back on. No fluttering and no failures!!
All in all it is a great flashlight, lightweight, bright, and simple! The only down side is battery charge life, but that is understandable based on size and weight.  I would suggest if you are going to be using the light a lot to get an extra set of batteries and the optional 12 volt charger. I won't say this is the last flashlight you will buy, because you will want more of them. And if you are nice, you'll buy some for friends and family.
http://www.rigidindustries.com/
Tags: flashlight, L.E.D., led, review
Trackbacks
Leave a Trackback