Transfer Flow to the Rescue!
Accessories
,
Headlines
— By
tgluckman
on February 13, 2011 at 8:44 pm
For those of you that read our review about the 2011 Ford F250 know that one of the biggest complaints we had was the fuel capacity. With only 25 gallons of diesel, the range while towing a trailer was not acceptable. So after doing a little research I found that Transfer Flow Fuel Tank Systems was paying attention and already had a 50 gallon replacement tank ready to go.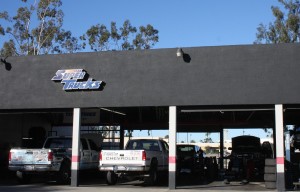 After receiving the new tank and seeing how big and heavy duty it was I decided I was too old to get on my back and install it myself. So I took it to SoCal Super Trucks, a shop I have had good luck with in the past. They are also a Transfer Flow dealer and can make you a great deal on a new tank.  Call or e-mail them for prices.
The install was easy and pretty straight forward because the new fuel tank is a direct replacement for the factory plastic tank. The new tank gets installed in the same location as the original. It uses the original sending unit out of the old tank and the install kit comes with a new fuel float that keeps the fuel gauge accurate. The fill neck is in the same spot so those hoses get switched to the new tank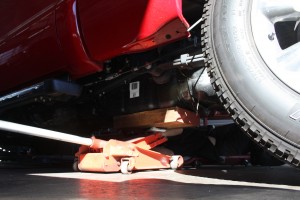 too. The kit also comes with new emission components to keep everything smog legal. Being that the new tank is steel it does not require the rock guard that Ford puts around the stock tank. The install kit also comes with new mounting straps and everything you else you need. It fit with no problems; it just fills up some of the open space that was in front of the original tank. The only hick-up we had with the install was a fuel line connector broke (common problem) when it got removed. It is just a little plastic clip that breaks easy. The new part was $5.00 but we couldn't get it till the next day.
With 50 gallons of fuel in the F250 now it has some legitimate travel range which gives you more confidence when towing your toy hauler any kind of distance. Anyone who has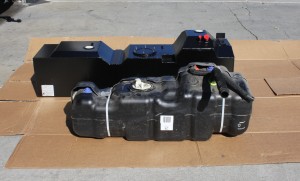 checked out new places to camp know that diesel is not always available right when you need it so the 25 gallon original tank just had to go. Thank you Transfer Flow for the Ford pickup replacement tanks.  You've made Ford owners very happy.
Transfer Flow Fuel Tank Systems is the leader in all types' fuel delivery systems imaginable. They run specials all the time on the website so if you are in the market make sure you check the specials and sales.
Tags: 4x4, after-market, F250, Ford, fuel, fuel tank, off-road, review, tank, tow vehicle, toy hauler, Transfer Flow, Truck
Trackbacks
Leave a Trackback