2011 Ford F-250 Super Duty
News
,
Tow Vehicles
— By
staff
on January 20, 2011 at 12:45 pm
Story By: Perry Gluckman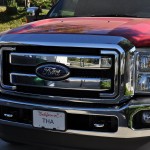 Three months ago I traded my Ford F-150 in for the 2011 Ford F-250 Super Duty FX4 diesel. The F-150 was a fine truck, but a new trailer insisted I should upgrade. The new in-house sourced 6.7l Powerstroke motor has 400 horse power and 800 pounds of torque. The power of this truck is staggering, and hardly notices it has a trailer attached to it. The integrated trailer brake controller assists in making the trailer invisible by modulating the trailer brakes with the truck brakes. Fuel mileage on new diesels is always a top topic. I have averaged about 16MPG, lower than the near 20MPG I expected. However this is higher than the reported MPG of the previous generation 6.4l Powerstroke. We took a trip to Iowa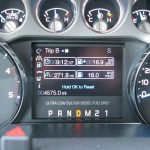 from California and the fuel costs where significantly higher than I expected due to using more fuel than expected. On top of that, with only a 25 fuel gallon tank, we had to stop too often to fill up. With this actual mileage, this truck should have a larger fuel tank. If I were towing a trailer, I would have had to stop under 200 miles for fuel. Another concern is the truck requires DEF (
Diesel Exhaust Fluid
) and the salesman told us it would need to be refilled every 10,000 miles. However, at 6,000 miles I had to refill it at a cost of over $5.00 a gallon for five gallons. Another added expense that I didn't plan on when purchasing the vehicle.
The exterior of the 2011 is an update to the model introduced in just 2008. With a new in your face grill, new functional side vents, and bulging hood, this is a very aggressive looking truck and I get a lot of compliments on it. The 4×4 Lariat FX4 model I bought includes Hill Descent Control, transfer case and fuel tank skid plates and Rancho branded shocks. I also opted for the built in 9 ½ foot bed cable lock system which is very trick, similar to the toy locks some new Toy Haulers are offering.
The inside of this truck has all the amenities of a luxury sedan. There is plenty of storage space under the rear seats and onthedoors. The ride is smooth for such a large truck. The backseat is large with plenty of leg room, and makes for comfortable ride for five people or less. With the 40/20/40 front bench. the F-250 does accommodate six passengers, however, the middle bench in the front is not very comfortable. The front passenger seat needs more leg room. The transmission tunnel impedes into the cab so much you have to hold your feet at an angle, which can be uncomfortable during a long trip. The SYNC GPS gives guidance on everything in California but as soon as we got out of the state, the map was not as detailed and occasionally cautioned us when off the major highways because it might not be accurate, which was surprising and disappointing.
Overall, I am very happy with my new F-250. The performance and features far outweigh the few negative issues I encountered.
Specs as purchased:
2011 Ford F-250 4×4 Lariat FX4 Crew Cab SRW
Engine = 6.7L Power Stroke V8 Turbo Diesel
Horsepower/rpm = 400 @ 2800
Torque lb.ft/rpm = 800 @ 1600
Transmission = 6 speed Automatic
Wheel base = 156″
Bed length = 6.75′
Brake rotor F/R = 13.66″/13.39″
Axle rating F/R = 6,000/6,200 lbs
Axle ratio = 3.55
GVWR = 10,000 lbs
Payload = 2,430 lbs
GCWR = 23,500 lbs
Towing traditional = 14,000 lbs
Towing 5th wheel = 15,800 lbs
Tags: 4x4, F-250, F250, Ford, review, super duty, tow, tow vehicle, Truck
Trackbacks
Leave a Trackback