Curt Tow Hitch
Accessories
,
Headlines
— By
tgluckman
on January 18, 2011 at 4:20 pm
Curt Manufacturing tow hitch installation:
It was time for a new car, the old car just wasn't big enough and I couldn't tow anything. So I started looking at Crossovers and smaller SUV's, I didn't want a full size SUV for a daily driver. I did lots of online research and drove a few different vehicles at dealerships. After contacting some dealers I was surprised to find out that many of these type vehicles that were on the lots weren't ordered with hitches. I could have special ordered one but I didn't want to wait. After lots of thought I went with a GMC Acadia  from Dutton Motor Company.
As I was doing my due diligence I found that many of the Crossovers had a 3500 pound towing capacity where the Acadia had a 5200 pound tow capacity, which I felt better about for towing my toys. I also checked to make sure aftermarket hitches were available. I was surprised about the fact that hitches are made for many more vehicles then I ever would have imagined.
More exploring on the Internet and I decided to go with a Curt hitch part #13424. It has a 5000 pound carrying weight and a 500 pound tongue capacity. The best part was the website said installation time was 30 minutes.
I ordered the hitch from Curt Manufacturing Inc. along with an electrical connecter that plugs into existing components on the Acadia so there will be no splicing of wires. Two days after ordering I had the hitch on my doorstep.
The installation was uncomplicated, six bolts installed to the proper torque in already existing holes and you are done with the hitch. I did have to drop the exhaust some to gain access but being a new car it was easy. The hardest part was getting the rear nuts and washers in place. The Curt installation kit came with a fishwire tool that made getting the back nuts into position painless.
The electrical set up was also a no brainer. I just pulled the two bolts out of each of the rear taillight assemblies. Then I plugged the Curt electrical ends into the lights connector and plugged the original wires into the new plugs. Then ran the wires down the side of the SUV to the place I wanted the flat four trailer plug to sit.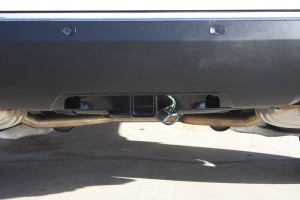 The whole process took me a little over and hour. The provided directions (which were also available on-line) were simple and easy to understand. The quality of the Curt Manufacturing hitch seems first rate and fits very well. You can hardly tell I have a hitch unless you look close. I am happy when a plan comes together as simple as this one did.
Tags: Acadia, Curt, Curt Manufacturing, Dutton Motor Company, GMC, GMC Acadia, hitch, tow vehicle
Trackbacks
Leave a Trackback