Kellys Beach: Kings River tube float
Headlines
,
Weekend Adventures
— By
tgluckman
on July 26, 2010 at 3:37 pm
Kelly's Beach, what a weekend!!!!!!!!!!!
I was invited to join some friends at Kelly's Beach on the Kings River just south of Fresno California. A weekend camping with my friends and floating tubes down the river sounds like the makings for a great weekend!!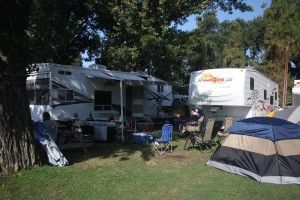 You arrive at Kelly's Beach, check in at the store and get wrist bands. Many of us had made reservation in advance for camping and for the bus ride that takes you and your tubes to the launching spot up river. The place is busy so I do recommend getting reservations. The resort has many electrical hook-ups for the toyhaulers and has one dump site in the entrance/exit parking lot. I am not sure how easy the dumpsite would be to use unless you waited for all the crowds to leave.
This resort seems like it is set-up more for people in tents then for RV's.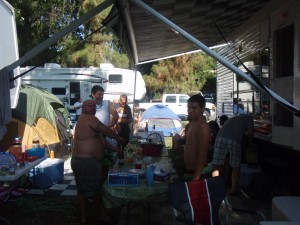 Don't get me wrong we had a great time in the toy haulers and it was well worth it. There are no laid out spots so if you are bringing your RV I recommend you get there early because the later you arrive the harder it will be to set up. If you did not need electrical hook ups it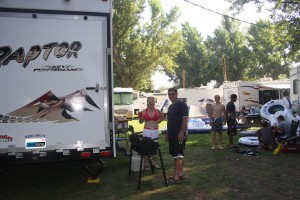 seemed like a free for all. People were setting up tents any where they could find an open piece of grass. We had campers put up tents less then five feet from some of our ramp doors. The only reason I mention this is because if you think that a particular section is yours you might be surprised by some of your new neighbors. Everyone got along, so in my opinion it was all good, just a bigger party. Anytime you put hundreds of people in the same area differences can arrive.
On a side note we did have problems with the electric hook ups and all the toyhaulers in our group lost power multiple times. The power grid at the park needs to be upgraded in my opinion. Lots of flies also, so come prepared.
On Saturday morning we had our assigned bus time to get a ride to the tube launch spot. For $15 dollars a head you get a bus ride and your tubes are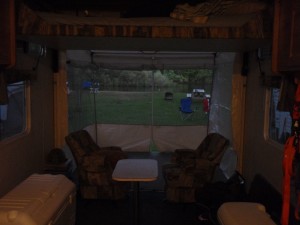 transported in a trailer for you. The bus ride was very entertaining, the driver and helper made it a blast. Not your normal ride to school!! When we got to the launch site the driver unloaded all our blown up tubes and gave a couple of quick tips to make the float fun. We loaded our coolers in a separate tube and headed out to float down the river.
As we were drifting down the river people were shooting water guns at each other and drinking beverages of their liking. We made a couple of stops at designated spots and watched the festivities and had some snacks. It is always fun to people watch at these kinds of things. Fun had by all!!!!  We were on the water for around five hours including the stops and it ended back at Kelly's beach in front of our camp.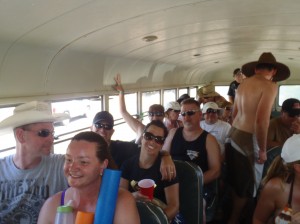 All in all it was a great trip with good friends; we are planning on doing it again next year. We learned a few things this year that will make for an even better trip next time.
All the people working at Kings Beach that I met were helpful and polite.
Check out the website for more information and more pictures. www.kellysbeach.com
Tags: camping, Kellys Beach, kings river, river, RV, tent, toy hauler, toyhauler, trailer, weekend adventure
Trackbacks
Leave a Trackback