Inyo National Forest
Destinations
,
Destinations Hi-lite
— By
awilson
on April 13, 2010 at 5:19 pm
We planned to set off early Sunday morning, for our 6 hour drive north from southern California. Due to a glitch… we ended up leaving closer to 2 pm. Leaving So Cal, we took Rte 14 through Mojave City, where we took our first rest and fueled up the Toy Hauler, truck, and ourselves. Leaving Mojave, bound for Hwy 395, we drove past our normal riding haunt, Jawbone/Dove Springs OHV. Had it not been 95deg out, we would have stopped and stayed there. On up the 395, we didn't want to stop for fear of arriving at an unfamiliar campsite after dark. We did stop once more before Bishop at a California Rest Stop. We then hauled the rest of the way to our camp at Hartley Springs.
There are a few other OHV friendly campsites in the area, but we where advised to try Hartley Springs (More on the other campsites later). Hartley Springs is about 12 miles past the Mammoth city turnoff, on Hwy 395, exit left on Obsidian Dome Rd. There is a Rest Stop 5 miles before Obsidian Dome Rd. where you can fill up with potable water. I strongly suggest filling there to avoid the extra weight during the haul.
We arrived at Obsidian Dome Rd. just as the daylight was failing. About a mile from Hwy 395 is a "Y" intersection. The fork to the right is the road to Hartley Springs (2S10), and the first corner is tight and steep, but possible for even a 40′ Diesel Pusher that we saw in camp. Just short of a mile later is Hartley Springs Campground. Dark once we got there, we circled the grounds once as best we could, and ended up back at the entrance choosing site #2 as it was one of the few available. Among its charms was it being a pull through.
Quickly I set up camp so the family could eat dinner, and took a stroll up to the camp entrance sign. A few bits of information; It's bear country, be careful with you food. Quiet hours are from 10pm to 6am, very reasonable. OHVs are allowed to ride to the trail heads, but not ride around camp. Red and Green sticker CA OHVs are legal year round, OHVs registered in other states require visitor OHV permits.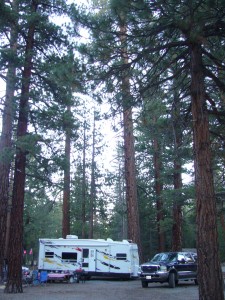 The next morning I was greeted by 70′ Redwoods surrounding us, and very pleasant weather for August. We took a drive into Mammoth to the Visitor Station for local trail maps. We found 2 that were very good, and went back to camp for a quick ride around. Dear, chipmunks, and squires abound. We brought a lunch, and ate on a large boulder overlooking the June Lake loop. Tight double track and fire roads make up the majority of trail systems. Our Rhino fit on all trails we found.
A few sights to note to see; Bald Mountain Lookout, there is a USFS fire lookout station up there, where we met Ranger Clay on duty, during a 2 week transfer from his local North Carolina. Just the most amazing views of the entire area from the 9200′ peak. The Devil's Punchbowl is a huge volcanic crater. Obsidian Dome is a mountain of volcanic Obsidian, pumice, and other rocks. Deadmans Creek, go all the way to the end of the road, and you are treated with a great picnic spot, creek side with very few visitors. Inyo Craters, which is a smaller version of the Devil's Punchbowl, but still quite worth it. Mono Mills has great views of Mono Lake. Last the coup de gras, Laurel Lakes, located on the south side mountain of Mammoth Lakes City at 10000ft. It's a trek to get to there, but it holds spectacular views, and a treasure of a lake at the end of the trail. Oh, did I mention all the RIDING! Hundreds of miles of trails, mostly tree lined paths, with a few meadow romps. All great riding, I didn't find a trail I didn't like.
When you are not in the mood for riding, you can drive to many of the near by points of interest. There's Mono Lake, June Lake Loop, Mammoth Lakes, the towns of Mammoth and June, Bodie Ghost Town, and Upper Yosemite National Park, all within an hour drive, and all well worth it.
Other campsite with OHV access are Glass Creek, Upper Glass Creek, Big Spring, and Deadman Campgrounds.
We will be back again next summer, and plan on making it a yearly trip.
Tags: Destinations, family, forest, Mammoth, OHV
Trackbacks
Leave a Trackback