The Entry Door Window by Atwood
Accessories
,
Headlines
— By
staff
on September 14, 2012 at 12:04 pm
By Mark Chekel
I understand that different toy hauler layouts don't leave room for a window on the entry side that would give you a view of camp.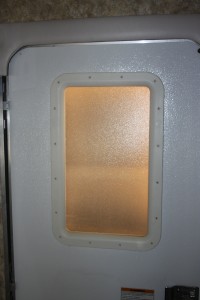 That does not explain why the RV Manufacturers couldn't make the window in the entry door see through. One of my complaints has always been that I couldn't see who was knocking at my door.
Another problem I have noticed over the years is that a lot of the plastic frames around the entry windows turn yellow. This makes the trailer look older  and maybe worth less money in my opinion.
Much to my delight a friend was surfing the web and found EDWIN (Entry Door Window) from Atwood . This window is a replacement window for most RV doors. If you have a rough window opening of 24″ X 15″, (which most are) the EDWIN window will fit. This window has multiple advantages over the stock one. The frame is powder coated aluminum, which matches the other windows in the RV and it won't yellow over time. It has a tinted window that you can see out of, this helps you view your locked up toys or check out who is around the camp fire. To make it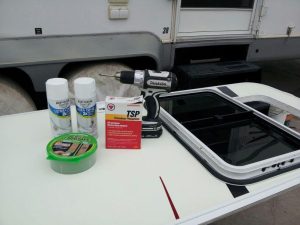 even better the window opens so you can get a breeze through the toy hauler without opening the door.
Installation was very easy. Took me less then an hour to get all the tools and install the window. I did have help holding the window in place to make it easier. When installing the weather stripping make sure you get it as far inboard as you can so when you torque down the frame it doesn't squeeze out any. If you use a Phillips screw driver bit in your power tools you may strip the screws. The window comes with the square bit RV screws (looks like Phillips but isn't) so make sure you use the right tool to avoid problems.
For $150 I think this window is a great buy and will ad value and comfort to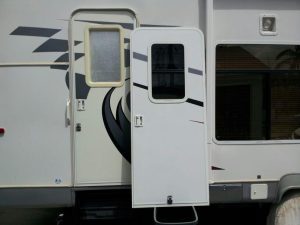 your toyhauler. Give it a quick look on-line RV Entry Doors you won't be disappointed.
Tags: Atwood, Atwood mobile, Edwin, entry rv window, RV, RV window, Toy Haulers, toyhauler
Trackbacks
Leave a Trackback