Hem2Mar Dual Sport ride
Destinations Hi-lite
— By
staff
on November 8, 2011 at 8:38 pm
By: Gary S. Shumway
A Hemet, California to Marion, Utah Motorcycle Ride on a Suzuki DRZ400S
September 29th through October 1st, 2011
The Mex2Can
I believe it is most accurate to say that our story begins back in 2007 when Brian, my younger brother, found the 2008 Mex2Can ride on-line. He sent me the link (mex2can.com) and from there it became a must do ride. The 2,500 mile ride starts at the Mexican border, traverses a mix of dirt roads, single track trails, and the obligatory asphalt to the Canadian border. The primary draw is that the participant can still ride from the Southern border of the United States to its Northern border in the states west of the Rocky Mountains and only have to ride on asphalt (paved highways) less than five percent of the time.
With the alternate routes made available to us by the ride organizers, the necessity to avoid the most challenging dirt/sand sections due to lack of time and bike capability (OK, and rider too), and having to travel on asphalt due to mechanical problems, Brian and I rode some eighty percent of the distance in the dirt. We had a great ride over a thirteen day period and made it in one piece from border to border on our little Suzuki DRZ400S motorcycles.
I say little because out of the some 20 bikes on the ride, they were the smallest displacement. We chose the DRZ as it is known for its reliability, light weight, and ability to do a number of tasks reasonably well, but none great, thus making it a decent compromise bike for the Mex2Can. On the ride we were never the first ones out in the morning and we were never the first ones back in at the day's destination. But we had a great time sweating, struggling with and dropping the bikes in the desert sand, riding and viewing the vistas of the cool high plains, and getting soaked and freezing in the hail and rain in the mountains.
Brian and I were the second and first, respectively, sons of Dr. Ord L and Phyllis Fillerup Shumway. We grew up constantly wrestling and fighting, but we always agreed it was great to get outside and ride our mini-bikes in the dirt. As an adult I am surprised that Dad let us have the various small two-wheeled scrape makers, skin burners, and bone breakers, but there was always some two-wheeled dust devil around in our formative years. We carried, along with our two younger brothers, Bob and Charles, the love of two wheeled travel into our adult years. Thus the Mex2Can.
Life has a way of demanding your attention when you are focused on other things. In March of 2011, Brian passed away while snorkeling the beautiful waters of Hawaii. His passing was totally unexpected and an absolute shock to his family. Brian was too full of life and way too young to be leaving us. Sometimes all one can say about life is, DAMN!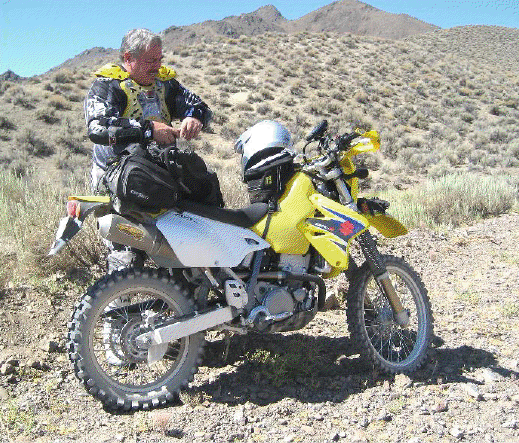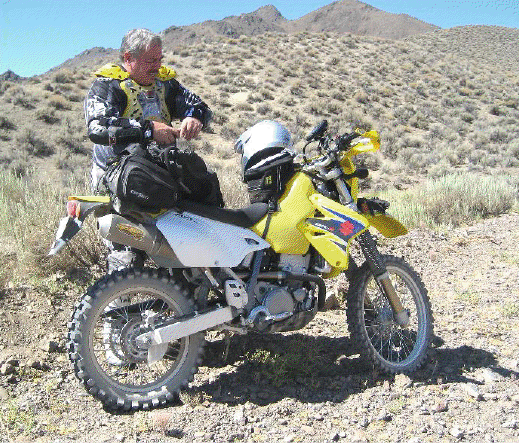 Brian with his Suzuki DRZ400S on the 2008 Mex2Can ride through the Nevada desert
Pre-Ride
At some point between March and September, 2011 I came to the realization that I did not want to lose track of Brian's DRZ. When we returned from the Mex2Can Brian continued to ride his bike almost daily to work. Brian also used it as a means to get away from life's pressures and would periodically send us pictures of his rides in the mountains and deserts around Hemet. He bought the bike new in 2007 and by early 2011 he had put 15,000 miles on it. All those miles when he lived only three miles from his office! In January , 2011 he had a top end overhaul done on the bike, along with new tires and brakes. He was ready to put another 15,000 miles on the bike. It would be an understatement to say that Brian really enjoyed his DRZ.
Therefore, I wanted to make sure, if I could, that the bike stayed in the family and I expressed that desire to Brian's wife, Rhonda. After a time, Rhonda asked if I really wanted the bike. I did not have to be asked twice. I jumped at the opportunity. We agreed upon a price and then it became just a matter of how to get the bike back to Marion, Utah where my five other bikes and wife reside.
Eschewing a banzai truck drive to Hemet and back to pick up the bike, I mean why put a perfectly good bike in the back of a truck when you can ride it, I began to plan out a route from Hemet, California to Marion, Utah which would be somewhat in the spirit of the Mex2Can. After all the DRZ is made to be a dual sport (on/off road) bike and I wanted the ride to more memorable than a 690 mile, 13 hour, asphalt slog back home on the I-15.
Somewhere into the route planning stage I came to the realization that September desert temperatures in California and Nevada is still very warm, dare I say hot. Traveling alone in the dirt/sand on a 15,000 mile bike is not the best use of my education. My wife, Mary Ann, can state it more succinctly as, "don't be stupid". So for the desert section I modified the ride to be mostly asphalt back roads (minimal freeway) with optional dirt/sand sections as the spirit moves me and conditions afford. The majority of the Utah ride is routed over dirt roads in the mountains. The route I plotted turned out to be some 973 miles with only about 75 freeway miles and the rest mostly two lane highways and dirt/sand.
Next I put together my equipment list and gathered my gear together. I had quite a bit that I had purchased for the Mex2Can so I needed to buy little. That said, my riding pants turned out to really have shrunk. I am not sure what scuba wet suits and riding pants have in common but over the last few years they definitely have shrunk. I was able to find most of what I needed except a portion of my tool kit. I resolved that I would have to buy another kit in California. For those interested, I have found that the Blue Ridge Racing equipment company (blueridgeracing.com) makes a nice compact tool kit. It is not cheap, but I did most of the upgrading (farkling) of my DRZ with the kit to ensure that it contained most everything I needed, and it did.
I purchased my one-way airline ticket a couple of days before the ride, making it pretty expensive, but I wanted to ensure, as much as I could, that the weather in Utah would not be bad for the ride. As it worked out, the weekend after the ride it rained and snowed in the Utah mountains. Except for the heat in California and Nevada, the trip was timed correctly.
Day 1: The Flight
Having gone to bed at mid-night and waking up at 3:30AM on Thursday it is way too early. So I lie in bed contemplating the ride in front of me and making a mental note of things that needed to be done before I could ride out of Hemet. I finally got out of bed at 4:30 and packed a few remaining items. Mary Ann got up at 5. After taking care of the animals and loading the car, we were starting down the road at 6:05, just five minutes behind our scheduled departure time. During the drive to the airport we chit-chatted about the trip. As I did not know when I would get out of Hemet or where I would subsequently spend my nights, I suggested that instead of me trying to find a night's lodging, that I would call or text her in the afternoon or early evening and see if she could procure lodging via on-line research. I also brought my sleeping bag in case circumstances forced a night out on the trail.
We arrived at the Salt Lake airport at about 7. We said our goodbyes and Mary Ann drove off as I walked into the terminal. We were both early, she for work and I for my 8:40 flight. All is right with the world.
The airport check-in went fine. The large bag that contained all my 'possibles' including riding gear, tools, and equipment weighed in at 37 pounds. Lighter than I had thought but the checked-in luggage still cost me $25. I carried my helmet and backpack to the TSA Gawk and Grope. I went to the line which appeared least likely to have to go though TSA's scanner. I walked through the metal detector without issue. As I am standing next to the TSA conveyor belt waiting for my carry-on to reappear I look up at the younger TSA agents which were doing the scanning. They also look over at me when they scan my back pack. I catch their eyes and nod slightly. No problems there either. I am putting my sneakers back on and heading for the gate in record time.
The gate B-8 waiting area is crowded, so I get a quarter pounds of pralines and a Diet Coke and sit in the Detroit flight boarding area. All is going to plan. At the appointed time we are called to board the plane to Ontario, California. I initially sat next to another guy in row 16. But as the flight is less than half-full, I change seats to across the aisle and we both have a more comfortable flight. I read, nap and then we land. Just a 1 hour and 30 minute flight over country that would take me more than three days to traverse via a dual sport motorcycle.
Day 1: In Hemet
By the time I get to the baggage carousel, my bag appears and I go outside the airport terminal to call and wait for Rhonda's arrival. Some 10 minutes later, Rhonda arrives and the California leg of the journey begins in earnest. Rhonda and I chat on the way to Chaparral in San Bernardino. Chaparral must be one of the largest on/off-road recreation vehicle dealerships in the United States. At the store I buy more tools, tire repair items, an inner tube, a small gas can, ridding pants, a locking cable, etc. I feel a little better prepared for the ride than when I left home but I still bemoan the misplacement of part of my Blue Ridge Racing tool kit.
Rhonda then drives me to Prime Performance in San Jacinto where I pick up Brian's DRZ. I had earlier called and asked them to pick up the bike at Rhonda's and replace the battery, put on a 14-tooth counter sprocket (rather than the stock 15), and generally check the bike over. They had done the top end rebuild on the bike in January so I figured if Brian trusted them, I would. They proclaimed the bike good. After paying them the $212 and their learning of the ride, they proclaim that I am crazy. Maybe so, but normal is, well, just so normal.
I ride the bike to Rhonda's house. Parking the bike on the side patio I am reminded that their relatively new house is truly a testament to Brian's creative styling. But now with him gone it has become more than Rhonda can afford. You can bank on the fact that life brings us constant change with which we must deal.
Anyway, I dump my gear next to the bike and start going through it, trying to get a small enough package to fit securely on the bike. I have to get everything I want to bring to fit in a fender bag, a tank bag, a fanny pack, a back pack, and the rack on the back of the bike. I have to cut back on the equipment and clothing I had brought. I finally get everything allocated to either my person or the bike. I put on my riding gear including chest protector, riding pants and boots. I say my goodbyes and thank
Rhonda for all her help. She agrees to ship the stuff I am leaving behind back to Utah. At 4:45 PM I manage to get out of her gravel driveway without dropping the bike.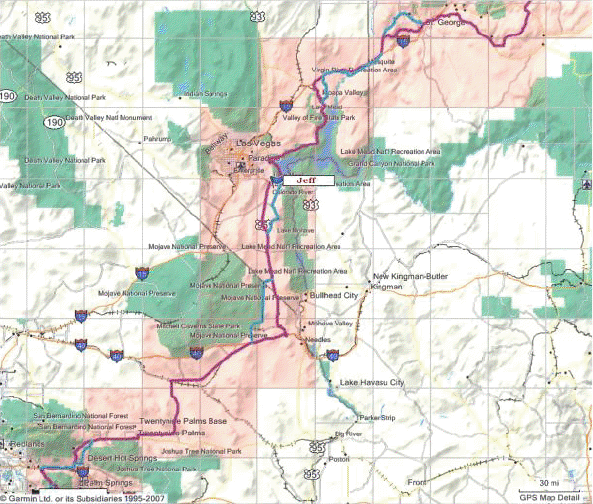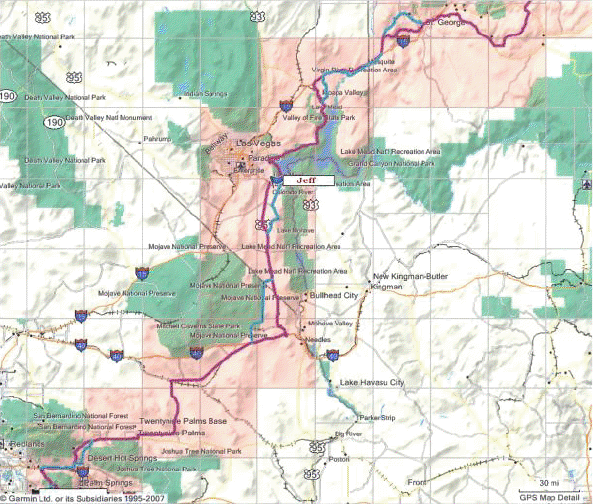 Planned primary route in magenta, alternate (more dirt) in blue – Part A
Day 1: The Ride Begins
From Rhonda's I ride up Stetson out to Valle Vista. Even in this short ride I am flooded by memories. As I had attended Hemet High School and Brian spent even more time growing up in Hemet, we have been all over the Hemet/San Jacinto Valley. From Valle Vista I head up to Idyllwild and then back down Highway 243 to the Banning area. I take this route because Brian and I had spent our first night of the Mex2Can ride in Idyllwild. Though I do not retrace our Mex2Can route down the mountain, there are still plenty of memories to revisit.
While filling up with gas in Banning I call Mary Ann and ask her to see about getting me a room in Yucca Valley. Due to my late start and the heat, I hop on the I-10 to Highway 62 and ride 15 miles of freeway. The bike performs as expected cruising easily at 60, yet with other vehicles going 75 and 80, I am glad when I am able to leave the freeway.
Riding up to Idyllwild had cooled me down a bit from the Hemet heat but this ride to Highway 62 and subsequently up to Yucca Valley is just downright HOT! The desert is supposed to be some 100 degrees and with my riding gear and backpack on, I believe it. I got the location of the Best Western from Mary Ann's text message and arrive there about 7:15.
I wait to get checked in, get the equipment off the bike, secure it, and made it to my room where I crank up the air conditioner. I call Mary Ann and I am out like a light until after mid-night. I did not get any dinner but I did drink plenty of water. I go back to sleep about 1:00 AM and wake up with the alarm going off at 5:30AM. Weird night.
Day 2: Well Done, Please
I put on my civvies (I did bring a pair of light weight, non-riding clothing just in case), and go out to find breakfast in the motel. I am the only one eating that early. The meal is unremarkable but tasty. An older lady is putting out the buffet breakfast. As small talk I asked how she was doing and she said, "I am glad to be alive and here". Nice attitude!
I am a bit groggy as I had not had my usual coffee but I get the bike loaded up and am ready to go at 7:30AM. I turn right out of the motel's parking lot and start down Highway 62. As it is relatively cool, I am thinking, "nice morning!" I wave at all the bikers I pass and they me. All is right with the morning. After about 8 miles, at the outskirts of Yucca Valley, I notice a restaurant like the one I had passed last night during my riding in. Guess they have one at either end of the town, I think. Then I see the 'The Happy Cooker' establishment and it dawns on me, finally, that I am going the WRONG WAY! Good grief. The sun on my left should have been a giveaway. What is the matter with me, had yesterday's heat cooked my sense of direction? I sheepishly pull a u-turn and hope that no one notices that I don't know north from south, oh, and that I expect to make it to Northern Utah?
I subsequently make it to 29 Palms without further incident, other than the front tire feels a bit mushy. I fill up with gas and check the front tire pressure. It doesn't register! How long have I been riding on a 'flat' front tire? When did it go 'flat'? Will it hold pressure? Questions I cannot answer at the moment and I have no time to wait around for the tire to go flat again so I load it up with 27 PSI and hope for the best. I do have several options as to tire repair so I figure I can deal with what I am dealt.
My route out of 29 Palms has me turning left on Utah Street (fitting I thought when putting the route together) and then a right on Amboy. As I am nearing the intersection of Utah and Amboy a large murder of crows circle the area. Is someone trying to tell me something? If someone/thing is, it is going to take more than some crows to make me a believer. I continue on out into the desert.
I pass, going the other way, maybe ten other vehicles (including two motorcyclists) during my 83 mile ride out to Route 66 (my destination is Essex which supposedly is the only gas along the way). Not too far from 29 Palms I come to a ridge and a view what is purported to be of the heart of the Mojave Desert. It is an open panorama of desert, mountains, and sparse foliage. Very nice.
I keep moving, eventually making the intersection of Amboy and the National Trial Highway (Route 66). I turn right (east) and shortly came upon Roy's which is situated out in the middle of nowhere. Roy's consists of a motel, dinner, and gas and I am sure it has been a welcome sight to many of those traveling Route 66. Roy's looked inviting, but I have my heart set on Essex, so I pass on one of the three things dual sport rider should never pass up, gasoline. This could be a mistake.
As I ride along I note that once again it is getting hot. This is not unexpected but certainly uninvited. In due time, cruising at some 60 mph, I make Essex only to find nothing of commercial value to me, i.e., gas. I have a backup destination of Fenner, but where is it and what is the best way there? I head out to the I-40 on Goffs Road. On the I-40 I first travel west for a few miles only to find a rest area so I cross the freeway in the median (being the scofflaw that I fancy myself, but aren't, I have always wanted to do that) and then I ride back to Goffs Road and turn left right into Fenner. Chagrinned, I could have saved myself about 5 minutes of travel if I had only gone another 200 yards on Goffs Road before going west on I-40. Ah, well. I made it.
Fenner has nice facilities for being out in the middle of the desert. I am the only vehicle there, other than the proprietors. I fill up the Suzuki's 4+ gallon tank with some 2 gallons of 91 octane. As with the other pit stops on this ride I use the higher octane due to the six month old gas originally in the tank. The DRZ is happy with 87/88 octane which is another reason Brian and I originally purchased them. I check the air in my front tire and it is holding at 25 PSI so I go in and get some potato chips and a large diet coke. I eat outside in the shade and share my chips with a scruffy looking black bird. Additional vehicles begin arriving, including a couple groups of Harley riders. The DRZ400S sounds like a sewing machine next to their rides. One of them walks by and asks how far am I going. I say up to Northern Utah. He seems impressed. "Nice ride", he says.
Spurred on by my time schedule and the increasing heat I get back to the business at hand. I dump the chips, finish the drink and bring the DRZ back to life. I take Goffs Road out to Highway 95 rather than getting back on the National Trails Highway which would then have included another ride on the I-70. Turns out that Goffs Road also cuts off a few miles. Apparently, Goffs is also known as Route 66 (as is the National Trails Highway). It is not clear to me how both can be Route 66 but I ride it nonetheless. I encounter few other vehicles on Goffs Road.
At Highway 95 I hang a left and head north again. Other than it continuing to get hotter, the ride to Searchlight is uneventful. Highway 95 has really been gussied up. Everything looks relatively new. Someone spent a lot of taxpayer money on this road and it basically functions as a freeway.
I continue north on 95 until I hit Grandpa's Road which is a dirt road going east off into the desert. Grandpa's Road is a bit rutted in places, narrow and sandy in others and turns into a smaller road which traverses a desert mountain range, turns into Western Road and dumps me into the small enclave of mobile homes called Nelson and subsequently Highway 165. The DRZ handles the dirt, rocks, sand, and twisties as expected. No surprises, though I do take things easier than I would have if I were just out playing with other dual sport riders.
I continue north on Highway 165, which is a good two lane road, until I hit two power line roads angling off northeast to Boulder City. I take one of the 'roads'. Most of the way to Boulder City this road is just about like riding a sand wash. It really keeps me on my toes. One can go down really fast if that front tire gets a bit crossways and digs into the sand. I slow down to let a security patrol SUV pass and almost drop the bike. Keeping ones speed up in sandy terrain is advisable but if you go down it hurts more. After about 35 minutes of that type of riding I am glad to get on firmer terrain and into Boulder City.
I stop and visit my son, Jeff, and the Pulvers in Boulder City. A couple of glasses of water and an air conditioned respite from the heat are welcome. Forty-five minutes go by and I have to get back on the road. I say my thanks and good-byes and head to the nearest gas station. I get gas, additional cold liquid refreshment and a doughnut. I also check the air in the front tire which is holding at 25 psi. I really do not know the optimal pressure but I figure 25 is a reasonable compromise for highway and sand.
Before heading out of Boulder City I stop at an auto parts store where I get a bolt to hold the front fender on the bike. Earlier I had noticed one of the four bolts missing and the twisting plastic fender had thrown off the fender bag while I was on the power line road. It turns out I am about to lose a second bolt as well so I Loctite the front two bolts and sweating profusely, call it good. Those four fender bolts were a problem on Brian's and my Mex2Can ride as well. You have to keep them tight or lose them and eventually the front fender.
The ride from Boulder City to Lake Mead is short and uneventful as I maneuver around the construction. Traffic going into Boulder City is backed up quite a ways. Then I hit the toll booth the Pulvers told me about. They want $10 to travel around Lake Mead on Lakeshore Road. I have traveled this road a handful of other times and regardless of its name you do not see much of the shores of Lake Mead. I eventually make it into Overton much hotter than when I started in Boulder City. Wearing a chest protector is a great idea in the dirt but really a pain on the highway.
I stop at the Maverick gas station in Overton and fill up with 89 octane for the bike and a large, ice ladened soda and doughnut. I find some shade and try to get cooled down. I call Mary Ann and let her know that I might need a place to stay the night in St. George, but that I will call later to confirm.
After consuming the soda I stand to resume the ride. It is then that I find that my legs have fallen 'asleep' and I walk back to the bike like I have had one too many. I hope a cop is not watching. I remount Brian's bike and I am off riding north on Highway 169.
As previously mentioned, in putting together the route through California and Nevada, I configured a primary route and alternative routes which consisted of more dirt roads and trails. As my motorcycle rides always seem to be a compromise between actually making my destination vs. spending more time on side rides, I had to decide between leaving Highway 169 at Overton and head northeast out into the desert or stay on 169 to the I-15. Based on the time and heat, I chose to ride to the I-15. While continuing north on the I-15 I also bypass another alternative route which turns out to be a dirt/sand power line service road which parallels I-15 for several miles and then juts off to the desert to the east.
I ride the I-15 until the Falcon Ridge Parkway exit in Mesquite. Stopping at the Chevron station I retrieve my trusty credit card from my tank bag and try using it. It is not accepted! Now this is interesting since I have been using it all along the trip. The clerk tells me that in order to use the card I would have to come into the building. Grumbling, I comply. The clerk tells me that if I had been using the card through three states then I would have to verify who I am. Which I did via my government issued driver's licensed. Then he wants to know how much gas I want. I say, "as much as it takes." He says he would have to have a specific amount and what I do not use would be credited back to the card.
It is my personality to go along with this type of BS, taking it step by step and getting further into the unsatisfactory situation, until at some point along the process I say I have had enough, I am not playing
any longer. I had reach that point with Chevron, the credit card, and the clerk. I say something like, "I am not doing this" and "It's not going to happen." I grab my card and license and walk out of the store with the clerk shrugging his shoulders, he could care less. The additional rub is that lately, whenever I have gone back and forth to California, I had been using that Chevron station. I hope I remain mad enough to write Chevron and the credit card company.
Not to be totally deprived, I move the bike to the neighboring Del Taco, go inside and order a quesadilla and a couple of tacos, with a macho drink. As I am waiting for my order (which takes forever) I call Mary Ann and ask her to get me reservations in Mesquite for the night. There is no way can I make Santa Clara or St. George in the remaining light.
After ingesting large quantities of liquid and my dinner I call my wife again and find that I am staying the night at the Best Western on Sandhill Road. I proceed there post haste. In unpacking the motorcycle I come to the stark realization that I had lost my primary tool bag! It had somehow fallen off the bike even though it was bungied in. I reason that what happened is that the bag slid out the side where there were no bungie cords. Damn! Not only are we talking about necessary tools for potential repairs but wire, crescent wrench, tape, J-B Weld, electrical wire, fuses, slime, a very nice Leatherman, etc. This is definitely a blow financially as well as a blow to my ability to fix the inevitable. This is a real downer.
On top of that, it turns out that the motel is about $30 more a night than the Best Western in Yucca Valley, not near as nice, and the breakfast fare is pitiful. I am not a happy camper when I call home. I hope she understands. On the other hand, it is a roof over my head, even though being on the second floor of a three story structure means that my upstairs neighbor is jumping up and down and playing some sort of indoor soccer in the room above me. I am tired enough that I end up not caring and go to sleep in short order.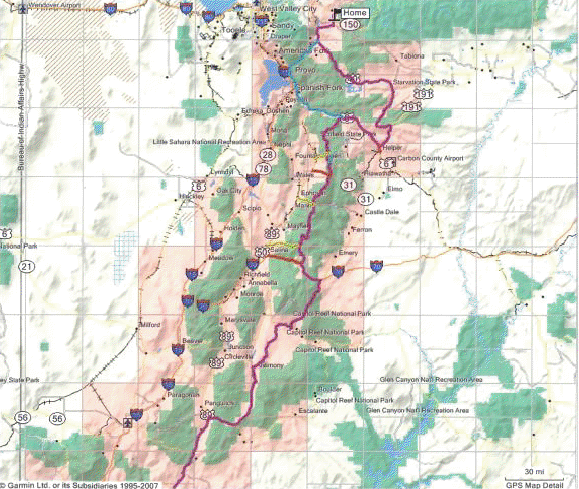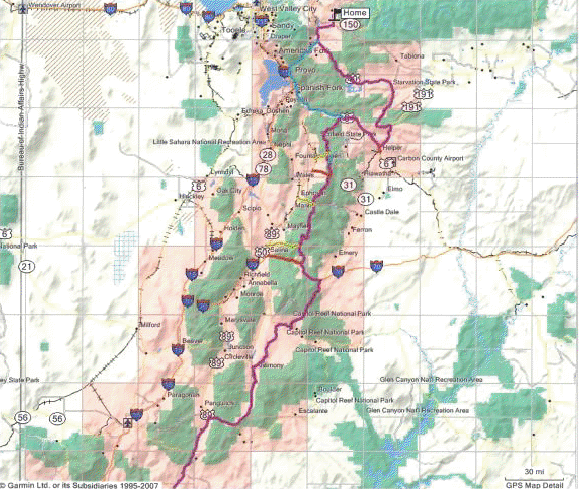 Planned primary route in magenta includes Skyline Trail and other dirt sections (in Part B less dirt is the blue route), gas acquisition in red and emergency drop of primary in yellow – Part B
Day 3: On Into Utah!
By morning my subconscious, which had worked all night on what to do about the missing tools, came up with replacing them, within reason, in St. George. I could only hope that I would then have the necessary tools if the bike breaks down. So I get packed up and head over to the gas station. After getting gas I forego breakfast for a Red Bull and doughnut which I am enjoying when an employee of the station starts up a conversation about the ride. I give him the particulars and that I'm trying to stay off freeways as much as possible. He starts to tell me of the back route to St. George through Littlefield and Santa Clara. I opine that that is exactly my route and he smiles and nodes that that is the route he takes as well.
In short order I ride out but about a mile along my tire feels a bit mushy so I turn around and stop at a different gas station and use their air for $.75. Turns out that my front tire is holding air fine, same 25 psi but checking the rear tire, which I hadn't done to this point as there did not seem to be a need, it came up with nada. How can it be that I have been riding on a flat rear tire all this time? Can't be. Regardless, I air it up and the bike seems to handle better. Gary, ALWAYS CHECK TIRE PRESSURE, even if the bike was in the shop and is supposed to be ready to go! Maintaining tire air pressure is the rider's responsibility. DOH!
The ride to Santa Clara is uneventful and much more interesting than riding the I-15 through the Virgin Canyon would have been. I am impressed by the neatness and 'quaintness' of Santa Clara. We will have to go back there someday.
Riding into St. George I stop at an auto parts store and since the pickings are sparse I only get a few things. Hopefully enough. Continuing on into St. George I run into heavy, stop and go traffic. It turns out there is a running event occurring and traffic is being rerouted. Great! I have to do several detours so I lose where I am as related to my planned route (I had the route mapped onto a Garmin 76 CS GPS which I also used on the Mex2Can).
Then it starts. The coolant starts spitting out around the radiator cap! What?! Every time I stop the same thing happens. Wow, now this is unexpected. So I do some driving around hoping to luck into a motorcycle shop. And low and behold, I do just that, and a Suzuki shop to boot! I go in and get some extra coolant and see about a radiator cap (thinking the cap, after 15,000 miles has gone bad). No radiator cap. Nothing. I know a foreign auto radiator cap will also work but I didn't know which foreign auto and the Suzuki people can't help me. I leave in search of an auto parts store and luck into ABC Auto Parts on E. St. George Blvd. I have to wait for the radiator to cool down so I go to the nearby McDonalds and get something to eat. Going back to the parts store I find that they are very helpful and locate a 1994-1999 Camry radiator cap that fits. I tip they guy that helped me $10 for his efforts. Thank you, ABC Auto Parts!
I am on my way again and since I am near the outskirts of St. George there is little stop and go traffic thus I am unable to really test the new cap. I head east on East Telegraph Street, then State, and finally onto Highway 59. I am on my way to Colorado City, Arizona and then up through Coral Pink Sand Dunes (CPSD). Both Brian and I had been to the CPSD park but I do not believe we ever went at the same time. Great scenery and fun dunes over which to ride ATVs. Recommended, a must see/do.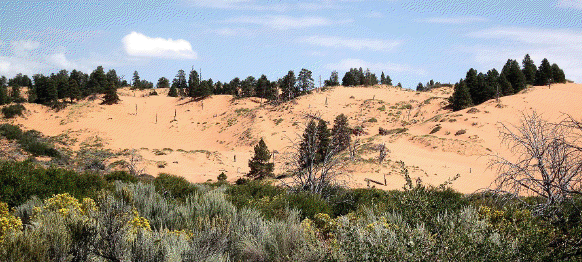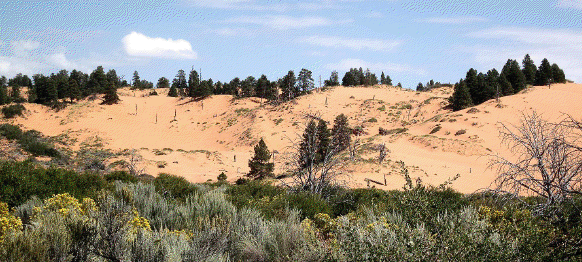 Northern portion of Coral Pink Sand Dunes
Following County Road 43 northeast I am experiencing much cooler weather and great scenery. It cannot get much better than this. Oh, and there is even a bit of a sandy, dirt road from Cane Beds to CPSD. Nice.
County Road 43 dead ends into Highway 89 so I hop on that road and ride north to Mt. Carmel Junction for petrol. Note, there are LEOs (Law Enforcement Officers) at either end of the 'town' so watch your speed through there! Continuing north on 89 I pass Orderville and Hatch.
At the junction of 89 and 12 I head east on 12 to Bryce Canyon City (BCC). This is my planned gas stop so I get some fuel for the bike (which is averaging about 44 mpg) and go into the store and buy some cheese curds and melon pieces for myself. I spend about 20 minutes eating and relaxing a little. BCC is definitely a tourist trap with most everyone using it as a stop off before entering Bryce Canyon National
Park.
Finishing my lunch I ride north, away from Bryce, on Highway 22. I meet maybe two vehicles on 22, a very pretty ride. I stop and take a couple photos of the sign for Widtsoe, Utah. My Dads brother's name was Widtsoe so I wanted to take the photos in his memory. Turns out that Widtsoe in the early 1900s was once a thriving town but due to variances in the climate, it has since become a ghost town with only ranchers and cattle as regular visitors.
|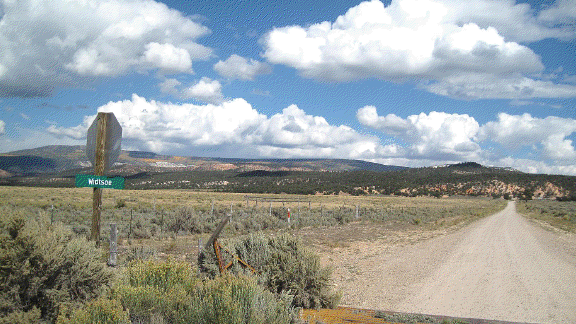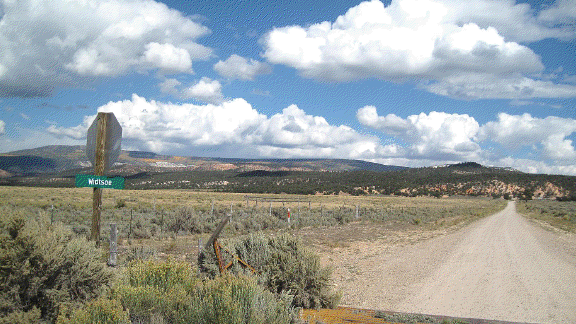 Road into Widtsoe, UT from Highway 22
Riding on, in due course I make Antimony. There is one gas pump in town, but that's all I need. I fill up the bike and ask about the dirt route heading northeast to Highway 62. I am informed that the road starts just on the other side of the gas station, so I take it and I am soon riding up a dirt road which becomes more rutted and rock strewn as I progress. I get in about 2 miles and after a particularly slow uphill section I hear this squeaking like sound. Strange. There it is again. Well this is no place to ignore a problem so I stop and note that once again the coolant is spitting out around the radiator, possibly from a small hole in the head, and from on top of the coolant overflow tank. It becomes painfully obvious to me that I am going no further up challenging dirt roads without fixing this coolant problem. Yet I do not have time to repair another problem, assuming I can repair it, as I have to get home Sunday at the latest. Taking the bike apart with no spare parts and limited tools seems to be asking for trouble when the bike travels fine down paved highways. Given the time constraints, that I am behind time as it
is, and that I cannot ride the Skyline trail like I had planned, I decide to go back down the mountain, hit 89 and follow it into Provo. This is another low point of the ride. I suffered through the desert heat so I could ride the cool mountain back roads of Utah. Now that is not going to happen. On the flip side, God willing, I do have next year.
I ride north on 89 to Manti where I stop for gas. I call Mary Ann and let her know that I am going to try and ride the bike in tonight. I probably should have holed up in Ephrim, as my wife advised, but now I just want to get this done.
I keep riding while the sun sets and it becomes darker and darker. Even so, Brian's DRZ has a good headlight so, except when encountering oncoming traffic, I keep it on high beam to help avoid any deer in the road and ride on into the night.
I stop for petrol and something to eat in Spanish Fork. It is pitch black out by now but the bike continues to run well. I am apparently not experiencing any coolant problems at speed. I am cold, but it's not bad since I have on a jacket I brought, just in case.
Feeling revived a bit I hit I-15 to University and then up through Provo. While riding through Provo, there seems to be about a hundred stop lights on University. I make the mental note that they call them stop lights because that is what they are, at least that is what they are while I am riding through the area. About half-way through Provo the bike starts spitting coolant again at every stop light. I just hope I have enough coolant to get up Provo Canyon into Heber and then home. It turns out that I do and I make it home (according to Spot (see findmespot.com)) at 10:15:29 Saturday night. Phew, now that was a long day's ride!
Post-Ride
I sleep soundly at home on into Sunday morning. I get up missing the ride regime yet glad I successfully made it home without a debilitating problem. Over the next several weeks I will have to decide whether to use Brian's DRZ as primarily a road bike or to keep it as it is (maybe adding a 440 kit like on my DRZ?) I have already purchased another radiator cap for the bike. The Camry cap purchased in St. George cost me $7 (plus $10 tip), the 'official' Suzuki one costs me $35 (no tip). That figures. But I do not believe just putting a new cap on the radiator will solve the coolant problem. The bike may have a warped/cracked head, a bad fan switch, bad fan, the coolant return line plugged, a leak in the coolant system, a bad water pump or ? Due to the snow and ice at the elevation we live I will have this winter to work it out and come Spring I will be back on Brian's bike. Over the next few years I intend to do part of the Trans-America Trail (transamtrail.com) on it and there is always us going back and finishing the planned ride, starting in Antimony. Brian's DRZ will be with me for years to come.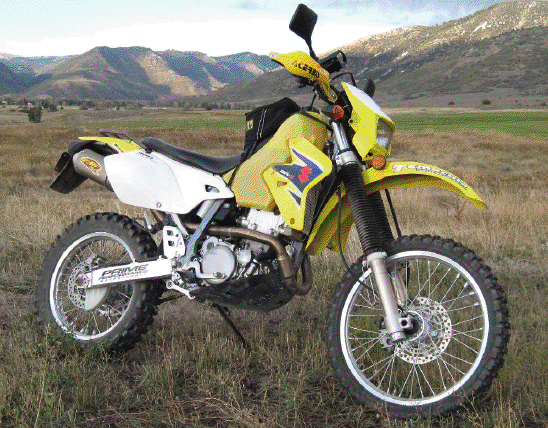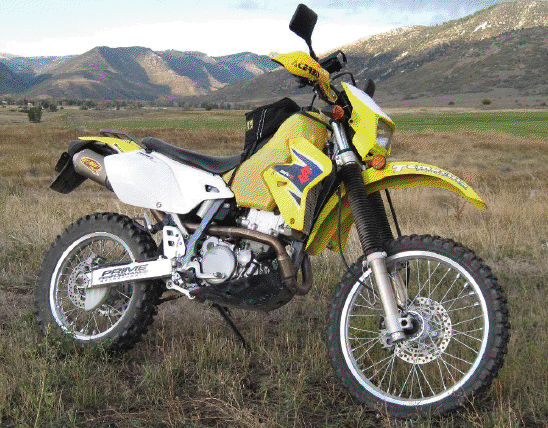 Brian's DRZ400S in Marion, UT
Trackbacks
Leave a Trackback