NEW REPLACEMENT TAILGATE HANDLE WITH BOLT LOCK
Accessories Hi-lite
— By
tgluckman
on September 27, 2011 at 2:01 pm
AVAILABLE FOR 2007-CURRENT CHEVROLET, GMC TRUCKS
MILWAUKEE, Wis. – STRATTEC(r) Security Corporation introduces a GM Replacement Handle Assembly designed to allow truck owners to quickly switch from a non-locking to a locking tailgate using the BOLT(r) Breakthrough One-Key Lock technology.
Available for 2007-current model year Chevrolet and GMC trucks, the replacement handle assembly delivers one-key convenience to the entire truck thanks to BOLT's patented technology, which permanently programs the lock to the specific vehicle's ignition key.  Simply insert the truck's ignition key into the new tailgate lock, turn it once and the lock learns the key.
"If truck owners are using a cap or tonneau cover to protect their gear, they also need to ensure their tailgate has a durable lock," said Sales Manager Erika Garcia.  "Our replacement handle assembly is ideal because it features an automotive-grade lock for added security and it simplifies access to the truck by utilizing the existing ignition key."
The GM Replacement Handle Assembly can be purchased and installed through your local truck accessory store.  Visit www.boltlock.com/retail-finder to locate a store near you.  The product also comes with detailed instructions that are easy for knowledgeable do-it-yourselfers to follow.
In addition to the replacement handle assembly, BOLT offers a variety of locks such as padlocks, receiver locks, cable locks and spare tire locks.  For more information, visit www.boltlock.com.
About STRATTEC
STRATTEC Security Corporation is the world's largest manufacturer of automotive locks, keys and related access control products, and is the primary lock supplier to Ford, GM and Chrysler.  STRATTEC's history in the automotive business spans 100 years.  For more information, write to 3333 West Good Hope Rd., Milwaukee, WI 53209; call 877.251.8798; or visit www.boltlock.com.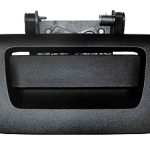 Tags: bolt, chevrolet, general motors, GM Replacement Handle, GMC, STRATTEC
Trackbacks
Leave a Trackback