59th Annual California RV Show Roars into the Pomona Fairplex for 10 Exciting Days, October 14 – 23
Weekend Adventures
— By
tgluckman
on September 28, 2011 at 9:20 am
The largest RV show in the West runs Friday, October 14 through Sunday, October 23, 10 a.m. – 6 p.m., daily
Pomona, CA (PRWEB) September 28, 2011
The California RV Show, the largest RV show in the West, opens on Friday, October 14 at 10 a.m. at the Pomona Fairplex and is guaranteed to bring the thrills and fun of RV travel to everyone who visits.
Tom Gaither, California RV Show Director, is excited to see the public's reaction to the show, "The 59th Annual California RV Show features over 800 RVs, 40 manufacturers, 16 California RV dealers, 150 RVs ready for test drive, 40 Factory reps giving demos, 60 RV seminars, 45 RV travel seminars, 18 camping cooking shows and 2 cooking contests…this is HUGE!"
Gaither continues, "Show-goers told us what they wanted and we are delivering it all this year: Our NEW entrance policy allows unlimited admission for the entire 10-day length of the show for only $10 for adults. Just pay once at the gate and receive your show wristband. Also new is our Drive Your RV to the Show and Park for Free promotion. Then come in and check out all of the brand new 2012 RVs from 40 manufacturers on display – remember this show is your once-a-year, one-stop shopping destination for everything RV."
The California RV Show is consumers' opportunity to see the best of the RV world up close and hands-on. The show features over 150 rigs of all types available for test drives, all in one convenient location. With gas prices coming down and hotel prices staying high, RV'ing is an affordable way to take the vacations you've been missing. With so much to see and do in Southern California, owning an RV unlocks your ability to explore all the famous attractions in your own backyard. Discover the thousands of RV's on display and attend demonstrations led by the manufacturers. Learn about the RV lifestyle and the benefits of owning your own home on wheels.
10-year RV owner Katrina Smorick of Garden Grove enthuses, "We can go on the road whenever we want; our RV gives us access to places a hotel can't. We've had amazing family times because of our RV and "toys" that we tow. We've explored the desert, the mountains, the beach, gone fishing…the possibilities are endless. My son loves our RV vacations." She adds, "The CA RV Show has showed us new things we never knew about. Plus, there are great kids' activities so no one got bored."
Highlights of this year's show include appearances by Mike Faverman and Pat Mac, stars of Ultimate Camp Cooking, a combination comedy and cooking show. They'll share some favorite recipes and laughs as well as MC the Dutch Oven Cook-Off on Monday and Wednesday. And don't miss award-winning film-maker, cinematographer and travel expert John Holod as he discusses the ins and outs of life on the road each day of the show.
The 59th Annual California RV Show runs 10:00 a.m. to 6:00 p.m. daily, Friday, October 14 through Sunday, October 23. Admission is $10 for adults (allows unlimited re-entry for the length of the show) and FREE for kids 17 and younger when accompanied by an adult. Seniors (65 +) can use an online coupon on Monday, October 17 only and pay only $6 for entry and a wristband. The Pomona Fairplex is located 2200 North White, just off the 10 Freeway, Pomona. Call 951-274-9215 for recorded information. Visit http://www.CaRVShow.com  for discount admission coupons and complete event details.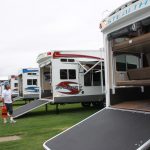 Tags: ca rv show, pomona, Pomona RV show, RV Show
Trackbacks
Leave a Trackback