Insight CTS Monitor by Edge Products
Accessories
,
Headlines
— By
jgroover
on February 4, 2011 at 1:51 pm
By: J.T. Groover/Jeff Stevenson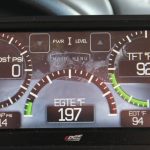 There are two types of truck owners in the toyhauling community, well the RV Travel trailer/fifth-wheel community for that matter, those that have a diesel tow rig, or those that are going to be purchasing a diesel tow rig. Myself, I am part of the former; my tow vehicle of choice is a 1997 Ford F-250 Diesel 4wd, with a few modifications. Anyone out there who has priced new diesel trucks recently are aware of how it is somewhat of a hard justification in this economy when your tow rig is not your primary vehicle to run out and purchase a new truck. This being said I am in the process of making my 14 year old truck with 140k miles on the odometer good for at least another 10 years and 100k miles longer.
I have been playing Russian roulette with my truck pulling my 15,000 lb toyhauler all over the western United States as I have not been monitoring essential engine data such as boost pressure, TFT (transmission fluid temperature), and EGT (exhaust gas temperature) . Like everyone out there I looked at 3 gauge setups that covered the aforementioned parameters but did not make the leap until I ran across the Edge Insight CTS, I really liked what I was seeing so I contacted the folks over at Edge Products out of Ogden, Utah to find out more.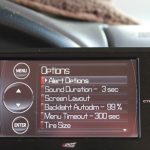 Features of the Edge Insight CTS:
Compatible with any OBDII-enabled vehicle 1996 and newer.
Full-Color, High-Resolution, 4.3-inch Touch Screen (CTS).
Displays available data from your vehicle's computer (varies by vehicle year, make, and model).
Built-in safety features: user-defined visual and audible alerts.
Scan tool: (does not include programmer capability)

Displays and clears diagnostic trouble codes
Displays peak values such as speed and RPM on available models
Performance testing: 0-60 and quarter-mile times

Can be used in conjunction with Edge or other performance products to read vital engine data
Monitors more than just a typical 3-gauge cluster
Expandable (items sold separately):

Compatible with optional Edge Accessory System (EAS) to allow users to connect multiple, additional accessories.

Back up Camera (also sold separately)

built-in video port that allows users to connect the state-of-the-art Edge back-up camera, or other compatible video source directly to the CTS unit.
For my Application the CTS is an almost plug and play monitoring solution. By simply plugging in the CTS to the OBDII diagnostic port inside the cab of my truck I was instantly monitoring the following for my 1997 Ford F-250 with a 7.3L Powerstroke diesel:
Battery Voltage
Corrected Vehicle Speed
Engine Oil Temperature (EOT)
Engine RPM
Gear and Torque Converter Lock Status
ICP pressure
Injector Pulse width
Intake Air temperature
Manifold Absolute Pressure (MAP)
Throttle Position
Transmission Fluid Temperature (TFT)
BOOST pressure
*parameters monitored vary by vehicle year, make, and model. Please refer to www.edgeproducts.com to review what is available for your application.
I emphasized "almost" because in diesel truck applications you do have to add an EGT probe as part of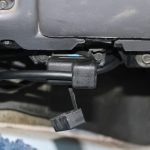 Edge Products EAS (more on this in a minute), In order to monitor this parameter. Once you install this probe you get the benefits of monitoring the 3 critical parameters listed above as well as have access to many more useful parameters to insure that your rig is performing at its best.
The Edge EAS stands for Expandable accessory system. What does this mean to you, well at the time of this installation it only covers the EGT probe but I have been told by the folks over at Edge Products that more sensors will be available as early as February of 2011 to expand your CTS monitoring capabilities of your vehicles different components. For myself I am really interested in being able to monitor my trucks rear-end differential temperatures when towing as well as post turbo temperatures so that I can see the difference in pre-turbo and post-turbo temps. The great thing about the EAS is that you only have to run one cable through the firewall into the cab of the truck and into the back of the CTS. Everything else will tie into the cable in the for the EGT probe you already installed!
Installing this probe is the most technical part about setting up this monitor and no matter whether you decide to stick with thetraditional 3 gauge set up or chose the Insight CTS you are not going to get around this task. I have to admit it was a little nerve racking thinking about doing this at first but after reading the instructions provided by Edge Products. I decide it couldn't be tha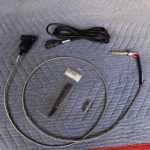 t bad. It took me about a half hour from start to finish. Picking a good spot on the exhaust manifold that could be reached with a drill from the bottom side of the truck; I started with a 1/8″ bit for the pilot hole and worked my way up to the proper 21/64″ bit needed for the 1/8" NPT tap. Using a magnet and shop vacuum in between each bit size to clean up all the chips and shavings. Please take caution to insure that you perform this task in the safest way possible both to you and your truck. Now that the hole was done I just needed to tap it with 1/8″ NPT Tap that I picked up at the local hardware store, Using the 1 turn in 1/2 turn out method with the tap and a little tap oil, everything went smooth. Please make sure that you keep a steady hand and keep the tap straight and level during this process to minimize any risk of improperly threading the hole or breaking the tap in the manifold. All that was left was installing the probe using a small amount of Anti Seize on the threads and tightened it about a full turn after finger tight. I then ran the cabling through the dash and into the back of the CTS screen.
Going from factory gauges for monitoring your trucks performance to actually seeing real numbers is an eye opener. How manyout there actually know what temperatures they are running at when it comes to engine oil or transmission fluid or even the exhaust gases going through the turbo vanes. I really had no clue, take your engine oil temperature for example you have a sweep that says L(low) with a large area labeled NORMAL then a H(high) but there is nothing that actually tells you what that temperature is. Not to mention that the factory dash (for my model year) does not include such things as Boost Pressure or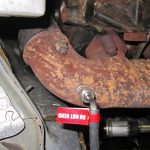 Transmission Fluid Temperature even though it is available to be read by the CTS from Factory sensors!
After conferring with a diesel mechanic as a reference I have programmed my alarms to warn me of possible damage to my truck at the following settings; Since most vehicles engine oil temperatures (EOT) run between 200-220Fº I have set a high temperature for 240Fº, for transmission fluid temperatures (TFT) that normally should be in the 180-200Fº I set for 220Fº and the one that I know you have all been waiting for the exhaust gas temperature (EGT). Since there is much discussion on this topic and to the best of my understanding is that you want to keep the temperatures below 1300 Fº pre-turbo I have set my alarm at 1275 Fº. This should let me know that I am getting close to the temperature that could damage the internal components of my engine and to watch how heavy I am on the throttle at that point to maintain reliability. Many people have warned me that once you have an EGT probe your driving style will drastically change as instead of driving by the tachometer or speedometer you will begin driving based on the EGT's alone when pulling heavy loads up a grade.
One of the things I like the most about the CTS is the variety of screens that I can chose to display the information available to me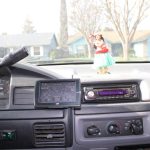 on, from 8 individual parameters on the screen with numeric values only to a analog gauge style screen that show 3 Analog parameters and 2 numeric parameters you can set up your CTS to see information how you would like to. The suction cup mounting pod makes it a breeze for finding the best location for your convenience to mount the CTS I chose to hard-mount mine at a location that I was comfortable leaving it permanently in my truck.
Included in my package was the Edge Back-Up Camera for the CTS. With a 3 wire hook up and everything you need to install it including a theft proof license plate mount. I was excited about installing this device. It took me about 30 minutes to fully install the system with the longest part was finding a suitable location to run the video cable and power wire into the cab of the truck and route the cables up the dash. I installed the power supply for the camera on a keyed accessory circuit of the truck in order to insure that I was not drawing power off my battery when the truck is off and parked. One nice feature is that not only could I monitor the rear-view camera when traveling down the road that when I put the truck in reverse it automatically switches to the camera screen and vise versa when I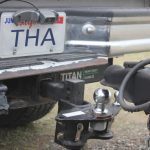 take the truck out of reverse it goes back to the gauge screen. This feature makes it hands free when it is time to hook up and go. I was really impressed with the resolution of the color screen the 4.3" screen was large enough view, and how easy it was to see what is behind you when backing up even, in heavy sunlight and low light conditions it was a definite aid to my sanity. If you are considering the Edge Insight CTS I recommend this accessory if you are constantly pulling tag style trailers of any sort, definitely a time saver.
Overall, I am impressed with the Insight CTS and would recommend this option to anyone with a post 1996 vehicle. Please be sure to visit www.edgeproducts.com and let them know you heard about them from Toyhauler Adventures.
Tags: backup, camera, CTS, Edge, EGT, EOL, exhaust, gauge, gauges, hitch, Insight, oil, temp, temperature, TFT, tow, tow vehicle, transmission, Truck
Trackbacks
Leave a Trackback