California Non Commercial drivers license
Headlines
,
Toy Haulers
— By
Kevin McKenzie
on November 12, 2010 at 2:27 pm
In California, to legally tow a 5th wheel trailer with a GVWR greater than 15,000 lbs. or a travel trailer with a GVWR greater than 10,000 lbs you need to have a Non-Commercial Class A drivers license. Everyone knows this, right? Surely when you buy one of these behemoths the dealer informs you of this, right? Wrong on both counts. As a matter of fact the vast majority are either unaware of the law or choose to ignore it. Up until last week I was in the latter category.
I have a 5th wheel with a GVWR of 16,500 lbs. I felt it was time to get legal for a little peace of mind; one less thing to worry about. After a little research on the DMV website, I learned that it's a two step process. Each step unfortunately involves a separate trip to the DMV.
The first step is a basic written test of 19 multiple choice questions. All the questions are pretty basic. If you studied the DMV manual or already have several years experience towing you shouldn't have a problem. Then they give you a vision exam and have you answer a health questionnaire that certifies you are in good health. This questionnaire has to be updated every two years to keep your license in effect. No Doctor signature is required for the non-commercial questionnaire.
If everything has checked out to this point, you are issued a permit and you make another appointment for step two of the process.
Step two in the process is the skills and driving tests. Prior to the tests they give your tow vehicle and trailer a visual inspection. The items they check are the headlights, brake lights, flashers, turn signals, and horn. If anything on the inspection fails to work properly, you fail the test and you must make another appointment after the items are fixed.
Next is the pre-trip inspection. This is where you demonstrate your knowledge of all your tow vehicle and trailers features and equipment that must be inspected prior to every trip. For the tow vehicle you must inspect the following:
Windshield wipers and the windshield for cracks.
The mirrors are clean and adjusted.
The oil, coolant, power steering, and brake fluid levels.
The belts and hoses for any cracks or leaks.
The condition of the tires and their correct PSI.
Wheels for cracks or excessive corrosion.
Hubs for grease leaks.
Lugs for tightness.
Brake linings where visible for thinness.
Head and tail lights are working.
Suspension for levelness.
The frame for cracks.
Doors and hinges are in proper working order.
You also must identify all the working parts of your hitch or coupling system and if your tow vehicle has air brakes you must demonstrate that they work according to specs. Next comes your trailer. First, you must show the location of the emergency equipment which includes a charged fire extinguisher and 3 emergency reflective triangles. Then they check that all lights including side marker lights are working correctly. Again, if any items are inoperable, missing, or unsafe, the test will be postponed until they are fixed.
The skills test is next. The skills test is where you demonstrate that you can stop the trailer at a predetermined point, that you can back up in a straight line, that you can make a right turn without hitting a cone, and arguably the most difficult part; the dreaded backing up while turning your rig into a coned off zone that simulates a camping space. Now I'll admit that it took me 2 tries to do this without hitting a cone but no worries, the test is very liberal; they give you six tries before they mark you down on that one item.
Now comes the easy part; the driving test! During the test you must demonstrate you have control of your tow vehicle and trailer at all times. This includes coming to a complete stop at every limit line, following the posted speed limits, traveling in the correct lane, parking against a curb on a downhill and an uphill grade, merging into freeway traffic, changing lanes, demonstrating hand signals, and ending in the correct lane after a right turn in one fluid movement. I got marked down for this last one. Because of the length of my trailer I always end up in the far left lane of a two lane road. I then put on my signal and pull into the right lane when it is clear. The correct way to do it is to make the turn into the right lane in one fluid movement so as not to allow another vehicle to squeeze in. I told the DMV rep that I had a problem with this technique with an extremely long trailer because a small quick car can easily squeeze in on you no matter how quick you are to merge. The argument was to no avail, he marked me down anyway. The driving test took about 30 minutes and I passed with just a few errors.
Overall, this was well worth the time and effort. I encourage everyone who tows a heavy trailer to take the test. It is extremely easy and gives you one less thing to worry about on a trip. For more information visit www.dmv.ca.gov/pubs/cdl_htm/lic_chart.htm#classanon to see what class of license you should have and www.dmv.ca.gov/pubs/dl648/dl648.pdf for the complete handbook. Good luck and tow safe.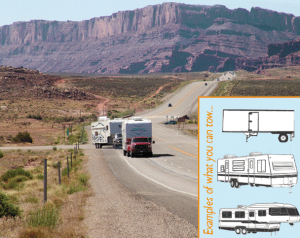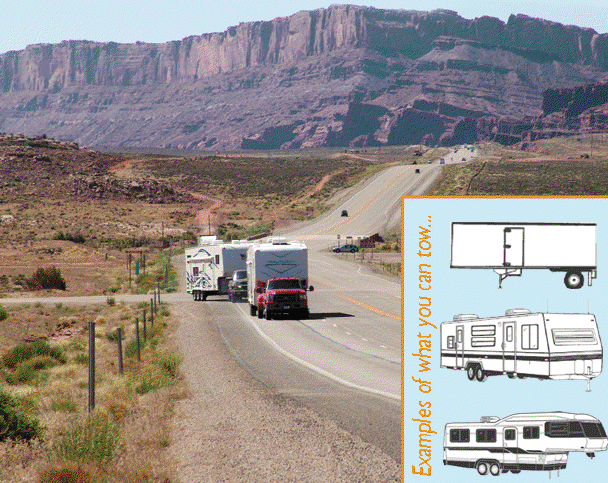 Tags: 10000, 15000, 5th wheel, california, class a, drivers licence, GVWR, license requirements, non commercial class a, travel trailer
Trackbacks
Leave a Trackback