Meet Nickolas…
Headlines
— By
awilson
on August 26, 2010 at 10:28 am
This is Nickolas. When you might see him on his quad, dressed in his bright yellow gear, you would assume he's just like any other 10 year old boy, riding his quad around the desert with his family. What you wouldn't realize is Nickolas has Down Syndrome, but that doesn't stop him, or his parents from being a typical family. He has a great enthusiasm for riding, camping and other outdoor activities with his sister, and parents. Here's his story in the words of his parents:
Nickolas is a very active boy who loves sports, the outdoors and physical activity. Once he sees other kids his age doing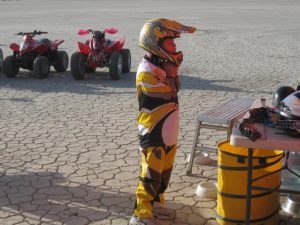 something he wants to join in and do it too. When Cameron (his sister) plays soccer he wants to play soccer. Mom runs races, so he wants to race too. So it was no surprise that once his sister was riding on her own, he let it be known that he wanted to ride too with his persistent response of; "What about me?". So it was just a matter of time and finding the right vehicle that would work for him.
Nickolas's first attempt at riding was on a little Chinese 50 quad at age 8, about 2 years ago. He did ride it a few times around the campsite, but it was already too small for him, which resulted in him being a bit top heavy on it. He was going the blistering speed of a brisk walk, went over a small bump, hooked a hard right, but leaned left. Got tossed off, went face down in the dirt, and said to heck with that! He left the quad right there, and walked about 200 feet back to the camper. After that he didn't want much more to do with it for the rest of the day. For some strange reason, he was more interested it the Ice Cream Truck that frequents the El Mirage dry lake bed, where we often camp, then onto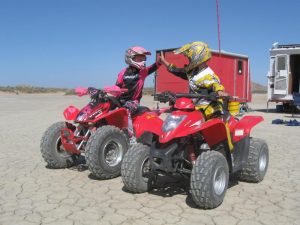 the burgers and fries on the grill.
We decided that if we were going to continue in this as a family endeavor, we better get Nickolas and his sister Cameron on something a little more suitable for their size and developing skills. Cameron moved up to a Honda TRX90, and once she started riding it in the back yard, Nickolas was ready to give it another go. So last November, Santa came a little early, and Nickolas got a shiny new, well,…almost new Kymco Mongoose 90. We chose the Kymco after doing some research on them, and found them to actually be a high quality machine. As well, We wanted him to have a full CVT transmission, and not have to get confused and frustrated with shifting gears. It has proved to be a good choice so far.
Once we start packing up the camper, Nickolas will start asking; "going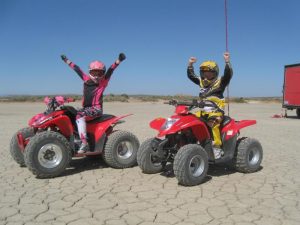 riding?". After camp is set up and the quads are out is ready to go.  He'll ride for a while, then stop for a drink, then get back on again. He'll keep going all day, until he eventually falls asleep in the chair next to the campfire with a sticky face from marshmallows and making S'Mores. Just like any other kid.
To date, he now has 3 camping trips to El Mirage, with his "new quad". He's doing pretty well and he's pretty proud of himself. Without question, "Daddy" is pretty proud of him too! Nickolas is still a little shy about jumping on the Landsailers with me, but that may have something to do with seeing me whipping by camp at 50+ mph, up on two wheels, with Cameron sitting next to me, yelling; "faster – Faster -FASTER  DADDY!!!". He will go ride the Landsailers with me, but he is quite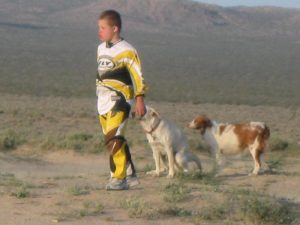 content to keep it on all 3 wheels doing about 20 mph or so. We also enjoy going boating, and Nickolas thinks he's ready to start driving the boat too.
We've been fortunate to have several good support groups within our area with which we've been involved with in varying degrees over the years.  After Nickolas was born, and for the first few years following we were very involved with P.R.O.U.D. (Parent's Regional Outreach for Understanding Down Syndrome) which later evolved into The Down Syndrome Association of Orange County (DSAOC).  As Nickolas got older and we got on with our lives, we found ourselves less involved as his needs changed.
During the last few years we have been more involved with another local organization, The Down Syndrome Foundation of Orange County, which in partnership with DownsEd International is primarily focused on Educational Issues.  We're part of the Learning Program's Co-Op group which is made of kids around Nickolas's age, i.e. older elementary school age and their parents.  One thing I would say is common amongst this group is that having a child with Down Syndrome has not stopped us from pursuing the things and activities we enjoy.  For some families it may be Martial Arts, another Horseback Riding, and another, travel.  For us it has been camping, riding, and other outdoor related activities.  While we may have to make adjustments and slow down, we don't give up on the things we enjoy.  Eventually we find a way to accommodate and include Nickolas.
For more information on Down Syndrome and the groups listed above, please visit these links. Thank you.
The Down Syndrome Association of Orange County (DSAOC): http://www.dsaoc.org/
The Down Syndrome Foundation of Orange County (DSFOC): http://www.dsfoc.org/
DownsEd International: http://www.downsed.org/
(editor's note; I had misspelled Nickolas's name with a "h". I apologize!)
Tags: camping, down syndrome, family, kids, landsailer, landsailing, off-road, OHV, quad, riding, RV
Trackbacks
Leave a Trackback