2010 PRC Rally
Destinations Hi-lite
— By
staff
on July 21, 2010 at 12:31 pm
Story by Gary Lenon.
They pulled into the campground (http://www.rideroyalblue.com/ )  all week long, all eager to take part in the Blue Thunder PRC Rally 2010.  First the PRC rally committee members arrived at the Royal Blue Campground to spend the week preparing for the June 24, 25 and 26 rally.  Members from all over the United States soon followed and the campground started filling up.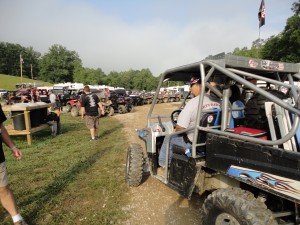 Busy days of rally preparation soon gave way to evenings around the campfire and night rides to the Top of the World, which was a great scenic lookout located at approximately 2,800 feet and known by some as the Helicopter Pad.  The trail from camp wound it's way up the mountain in a 45 minute drive that led to this "must see" when visiting this area.
Every morning of the rally found Polaris Rangers lined up at the front gate, waiting for one of the guided trail rides. Expert trail guides from the PRC Ranger Club led scenic rides that included a couple of waterfalls, beautiful winding trails and some challenging technical areas to climb some rocks and play in the mud.
Those wanting a more challenging riding experience joined up with guided rides led by the local Royal Blue Rangers Club.  Riders seemed to have a lot of fun learning exactly what their machines could do in some of the more challenging riding areas.
The food at the rally was absolutely delicious!  Thursday evening the staff of the Royal Blue Campground put on an awesome free weenie roast with all the fixings for all of the rally attendees.  Friday the PRC Ranger Club rally committee staff grilled hamburgers for everyone and the meal featured salads, chips and even homemade ice cream!  Saturday's feast was a huge hog roast that was thoroughly enjoyed by everyone.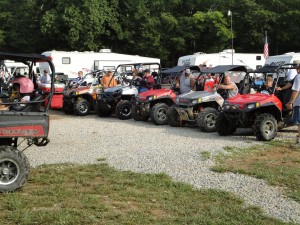 Saturday evening was highlighted by a huge prize drawing that featured about $50,000 worth of goodies, including a grand prize of a  $15,000  2010 Robbie Gordon Edition RZR 4 that was donated by Polaris Industries. Here is a listing of some of the other prizes and the sponsors… (These guys made the PRC Rally possible)
Lucas Oil
– Rally Sponsorship, Kid's Prizes ($6,000)
RangerWare-Wide Open Co
– $4,000 in RangerWare Buck
Trail Armor
– RZR skid, RZR nerfs, A-arm guards, RZR soft top ($875)
ATV Outfitters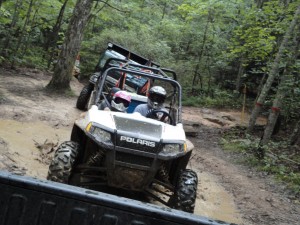 – (1) fuel pack: ($100), (1) gunboot: ($90)
ProLift
– (2) Lift Kits  ($320), (1)Rear Bumper Tire Carrier ($345)
Dirty Dawg
– (2) Complete clutch kits $1200
Breese Lawn and Garden
– 1 pre-runner front bumper (RZR), 1 pre-runner front bumper (Ranger), 3 front brush guards (Ranger) ($1328)
Thunderhawk
– (1) RZR Front Bumper Brace / Radiator Guard,  $89.99, (1) RZR Fuel Tank Skid Plate,  $89.99, (1) RZR Chassis Brace Kit,  $116.99, (1) RZR Expand-Lock Frame Tube Set,  $186.99
Motorsports SuperStore
– Ranger brush guard, RZR brush guard ($435)
Super ATV
– (2) front brush guards..one RZR, one Ranger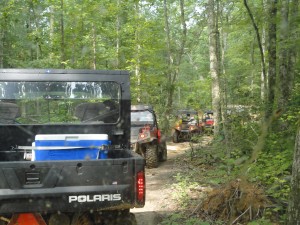 EMP
– (1) Set 2010 Ranger CV Boot Guards-Steel $169.99, (1) RZR Cooter Brown Polyethylene Top $179.99, (1) RZR Tinted Half Windshield with Quick Connect Clamps $124.99
Lonestar Outdoor
– 2 Roll bar baskets, 2 Roof baskets ($538)
Unisteer
– $500 Gift Certificate
Holz Racing
– (2) Wheel Spacers, Hood Vent, Air Intake Vent ($250)
RacerTech
– Front bumper for a RZR or RZR S  FB3 model, Standard lift kit for RZR '08-'10 in black ($745)
Nelson's Speed Shop
– Stihl weed eater $150.00, Three kids Choko full face helmets $109.00 each
SideXsideWorld.com SXS Forum
– (1) Pioneer Internal DVD/CD Writer DVR-1910LS $99.00, (1) Pair of Bass Pro Shop 7x35mm Binoculars $29.95
E-Z Pull (Larry Wengert)
– 2 E-Z pull E-Brake kits $390
Mammoth Design
– (1) Lexan Windshield (Ranger), (1) Full Ranger soft cab with vinyl windshield, (1) 2010 Crew Top Cap ($1305)
Jagged X
– 2 spare tire carriers $120, RangerCabs FTD Crew Cab  Value $610, MotoAlliance Elite 5K Viper Winch ($460), Gorilla Axle Gift Certificate for 2 axles $790, Bikeman Performance pipe $549, Ride Royal Blue  Getaway Weekend Package, Makin Trax Suspension (4) Progressive Springs-RZR $425, UTV Parts & Accessories $60 Gift Certificate, DragonFire Racing   (2) Y harnesses $225
Lakeside MotorSports
– (2)$50 Gift Certificates $100, (2) Two Adult Helmets  $150
Valley ATV
– Pre-runner Front bumper  ($199)
Mountain Customs
– Gift Certificates
Wayne's Equipment
– (2) helmets & (2) pairs of riding gloves
Ranger Tire Carrier
– (1) spare tire carrier ($80)
American Tire Distributors
-(1) Gift Certificate for (4) Goodyear MTR Tires ($400)
PIAA
– (1)  HID Conversion Kit and (1) 510 ATP lamp kit ($610)
JC Whitney
– Catalogs and gift certificates
Probox
– (1)  Crew or XP Roof ($1200)
UTVOffroad Magazine
– Magazine Subscriptions, other goodies.
A special thanks to the PRC Rally Director, Neal Hanger, and his great rally committee and to the PRC Director of Public Relations, Randy Warren, for working with all of our sponsors to put together the great prizes!
You can learn more about the PRC Ranger Club forum at www.prcforum.com and their sister site  at  www.SideXsideWorld.com
Tags: camping, Lucas Oil, OHV, prc, rally, side by side, toy hauler, toyhauler, utv
Trackbacks
Leave a Trackback