A.R.E.'s Truck Caps, Tonneau Covers Available for 2011 Ford Super Duty
Press Releases
— By
awilson
on May 25, 2010 at 4:28 pm
FOR IMMEDIATE RELEASE
McCullough Public Relations
330.244.9980
MASSILLON, Ohio – A.R.E. offers truck owners a complete lineup of caps and tonneau covers for the new 2011 Ford Super Duty that are custom made to fit the size and shape of the new Ford's regular, extended and quad cabs design as well as both long and short beds.
Featuring high-quality construction that delivers function and style, A.R.E's fiberglass truck caps and tonneau covers provide added utility to both work trucks and the family vehicle.  The toppers are painted to match the owner's truck using the exact OEM paint code for a premium appearance.  A.R.E. backs its lids and their painted finished with a limited lifetime warranty for the life of the pickup truck they are originally installed on.
"Adding a truck cap or tonneau cover increases your truck's performance by turning an often-unused back truck bed into a functional trunk," said Bryan Baker, director of marketing, A.R.E.  "Drivers can keep expensive golf clubs or bicycles secure, protect gear from rain and sun damage, and have easy access to items they use of a regular basis."
A.R.E.'s product lineup for the 2011 Ford Super Duty includes:
* LSII Series – One of A.R.E.'s best selling units, this hard tonneau cover matches the OEM body style lines for a custom-fitted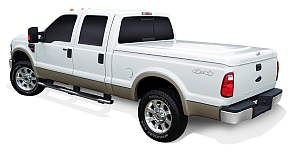 look.  It features an exclusive Lift Assist gas strut system that makes it easy to open and close.
* Z Series – This premium cap model features top to bottom aerodynamic engineering and contemporary styling to give truck owners a polished sport utility look.  The Z Series has a compound curve rear door and screen vent side windows.
* V Series – Designed for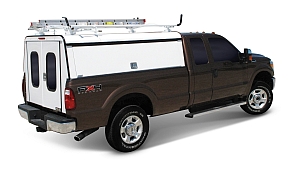 value-minded users, the V Series has traditional styling with smooth body lines and numerous window options.  The truck cap comes standard with a front picture window, dark tint side windows and a standard rear door with a locking handle.
* CX Series – Featuring a unique combination of strength, style and function, this fiberglass cap features a full walk-in rear door that is contoured to fit the truck's tailgate.  Equipped with rear screens for extra ventilation, the cap also offers an easy grip latch that includes a key lock.
* MX Series – Versatility and function are the main goals of this truck cap, which boasts a mid-high roof design that provides extra headroom and storage capacity while offering easy access to your gear.
* TW Series – The classic wedge design of A.R.E.'s TW Series takes full advantage of the shape and capacity of your truck bed.  Its heavy-duty rear door and 31-inch height (full and mid-size trucks) from the baserail to the top of the cap makes it ideal for easily loading, unloading and transporting big items.
* Deluxe Commercial Unit (DCU) – Specially built to withstand the rigors of any work situation, the DCU has a rugged, fully welded aluminum frame construction.  More than 200 options are available, including door and window configurations, toolboxes, custom ladder racks and cap height.
A.R.E. is a leading manufacturer of fiberglass truck caps and hard tonneau covers with more than 500 employees at its ISO-9001:2000-certified manufacturing facilities and a network of more than 600 independent authorized dealers.  For more information, contact A.R.E. at 400 Nave Rd. S.E., P.O. Box 1100, Massillon, OH   44648; call 800.649.4ARE or visit www.4are.com.
Tags: 2011, camper shell, Ford, press release, super duty, tonneau, truck caps
Trackbacks
Leave a Trackback