Pit Bull Tire Company's ROCK BEAST XOR R/C 2.2 tire
Toys Hi-lite
— By
awilson
on May 25, 2010 at 2:20 pm
St. Louis, MO (May 25, 2010) – The Rock Beast 2.2's are miniaturized modified versions of the patented Champion Pit Bull Rocker LT tires with RC Crawling enhancements added to make these the King of the Heap.
Our multi-varied tread design increases forward/reverse and lateral traction with serious biting across the footprint.
These Rock Beasts have many features designed to increase speed and control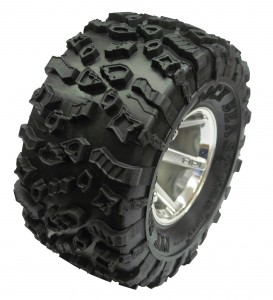 while enhancing stability and contact patch.
Excellent lateral bite–incredible stickiness and exceptional traction. You'll be seeing this Bad Mammer Jammer on the podium very soon…
PB9001KK – Rock Beast XOR 2.2 RC tire – 2 per package / no foam / with 1 decal sheet of 20+ decals
– Komp Kompound™
– Inside Ribbing
– Stepped Lugs
– 2.2/5.5 OD* – each tire weighs 3.8 ounces
– 5.25×2.25 Un-mounted. 5.5×2.5 Mounted
*Dimensions may vary depending on mounted rim width used.
For more information please call 800.645.2006 or visit www.pitbulltires.com
Tags: press release, R/C
Trackbacks
Leave a Trackback