Coke Ovens Ride- Florence, Arizona
Destinations
,
Destinations Hi-lite
— By
brodgers
on April 16, 2010 at 6:30 pm
Coke Ovens Ride- Florence, Arizona
Florence is a community in south central Arizona Territory; it was home to frontiersmen who produced coke, not the beverage or the illegal drug, but a charcoal product from the mid 19th century to the early 20th century. Florence was a tough town, with robberies and murders occurring on a regular basis. This is probably why the town is now the location for Arizona's state prison for hard cases.  The coke ovens are among the historical remnants of this area, and a popular off-roading area. They are located on a site which overlooks the Gila River, approximately 15 miles east of Florence.
This is a full day ride, so pack a lunch and plenty of water. It is a very technical ride as well and should not be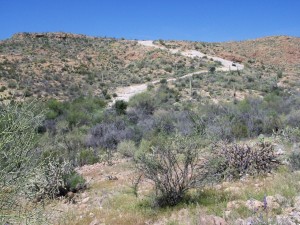 attempted by novice riders.  So, with some 8 UTV's and a few quads, we started out on our 20 mile quest to the Coke ovens. The first 4-5 miles are fairly flat and wide dirt roads. Then down into Box Canyon, which was flowing with creeks of water from all the recent rains.  But soon after that, the trail turns to rocky, narrow, and steep hills.  Area's on the trail called the "Stair Steps" come into play as well. These are rocks approximately three feet high with slightly eroded edges. The Stair Steps on long steep hills make for the most difficult sections of the trail.  This is where picking your best line comes into play. We stopped for breaks periodically through the trip to take in all the beauty of the surroundings. This really made the adventure all that more worth while.
The final hill that that we topped, we had an awesome view of the Coke Ovens and the Gila River.  However, this was to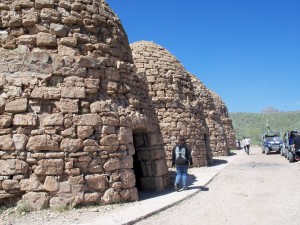 be the most challenging section of the trail we encountered.  A steep and winding half mile long hill with rocks, stair steps, and loose gravel all rolled into one that goes down into the Valley where the river is.  We all made it down without incident, but I couldn't help but think….we have to go UP this hill to get back!  That aside, we arrive at the Coke Ovens, WOW, they are so much bigger than any picture I have seen. They are some 25 feet in diameter by 30 feet tall. Some of us ate lunch, a few wandered around looking at the ovens and some checked out an old building that was nearby.  The Ovens sit atop a small hill that overlooks the Gila River, so the view was beautiful.  Once we all had our fill of food, drink, and taking in all that was to see, it was time to head back to camp.  I think we were all a little hesitant, knowing what we had in front of us on the trail back.
One by One we started up the hill out of the valley, a few of us met with some resistance from the hill however, including quads getting stuck, near roll over's, and rocks banging the underside of the UTV's so hard it stopped you instantly.  With help from others we all made it out safely with no breakage.  After that, everyone seemed to think the rest of the ride back would be a piece of cake.   We stopped along the way to look at Petroglyph's drawn on canyon walls by the Hohokam Indians, some other old shacks from back in the 1800's.  Our journey started at 10:00 am, we arrived back at camp around 6:30pm, tired, hungry, but all talking about the incredible ride we had that day.
How to get there:  From Phoenix, take US-60 East to Exit 212 (Florence Junction),
Turn right (south) onto SR79 and go 5.4 miles.  Look for cattle
guard on your left(East), turn in there.  Once in, the dirt road
goes back 6-7 miles.  It's a semi-smooth road with staging and
camping areas all along it.
GPS-  N 33 10.746  W 111 21.009
More Area Info:  http://www.riderplanet-usa.com/atv/trails/info/arizona_09189/ride_1af5.htm
Brian Rodgers
Tags: Arizona, Coke ovens, Destinations, off-road, side by side, Toy Haulers, utv
Trackbacks
Leave a Trackback