The Mother of all SUVs!
Toys Hi-lite
— By
awilson
on September 10, 2010 at 2:21 pm
I know we don't like to post press releases in the main area, but this is basically my dream come true… an SUV version of the awesome (the word really does not do justice) Ford F150 Raptor…. check it out: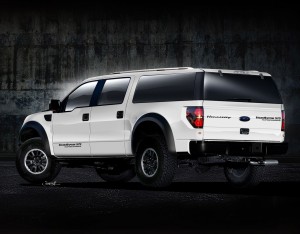 SEALY, TEXAS – Having a vehicle that can safely and quickly get you out of harm's way is just as important as having armored protection. Introducing Hennessey Armored Performance Vehicles (APV) ™. Hennessey APV ™will apply the company's go-fast know-how to help improve the acceleration, braking and handling performance on late-model armored vehicles.
"Adding armor protection to SUV's such as Chevy Suburbans and Cadillac Escalades can easily increase vehicle weights from 6,000 lbs to over 10,000 lbs", said company founder and president, John Hennessey. "We are excited to be able to apply our 20 years of high-performance experience to the armor vehicle industry."
The company's 2012 Hennessey VelociRaptor APV, based on the new Ford Raptor Super Crew, will offer the ultimate combination of armor protection, vehicle performance, passenger comfort and safety. Powered by a supercharged 6.2L V8, the VelociRaptor APV will have the performance capability to drive away from, through or over obstacles both on the road as well as off-road.
"The VelociRaptor APV will showcase the highest level of protection, comfort and performance all in one vehicle," John states.
Hennessey Performance will also be offering a non-armored version of the VelociRaptor APV which will offer off-road enthusiasts the same level of utility and off-road capability that the Ford Raptor has become known for. Hennessey will offer the VelociRaptor SUV with the same supercharged 6.2L V8 producing 575 bhp. There will be seating options for six, seven or eight seats. A full line of electronic upgrades will also be available, including: Satellite TV, high-speed internet, entertainment systems and mobile office systems.
Hennessey APV™ offers a complete line of high-performance upgrade systems for the following the following armored vehicles, both for new vehicles as well as ones that are already in service:
• Cadillac Escalade – 500 to 1000 hp
• Chevrolet Suburban – 500 to 1000 hp
• Chevrolet Truck – 500 to 1000 hp
• Ford Raptor Truck – 450 to 800 hp
• GMC Denali – 500 to 1000 hp
• Jeep – Up to 800 hp
• Land Rover – Up to 550 hp
• Lexus LX570 – Up to 500 hp
• Nissan Patrol – Up to 1000 hp
• Range Rover – Up to 550 hp
• Toyota Sequoia – Up to 650 hp
• Toyota Land Cruiser – Up to 650 hp
Tags: awesome, Ford Raptor, press release, Raptor, SUV
Trackbacks
Leave a Trackback