A Father, Daughter bonding Ride to the Pinnacles in San Bernadino CA.
Destinations Hi-lite
— By
staff
on August 6, 2010 at 8:42 pm
Toy Hauler Adventures  loves reading stories about family moments while out enjoying toys. So when I saw this story on the RV.net Toy Hauler forum and I thought this is what we are all about.
Thanks for sharing your Adventure Ron and Cameron!!!!!!!
Story by Ron and Cameron;
"First off I'd like to say, Thanks to all who helped out with the suggestions for this past weekends ride.
We had a GREAT time, the weather was perfect, the trails were good, traffic was light, and the weekend was fantastic success.
Cameron rode VERY well, and her level of confidence has been raised a quite a few notches. Sure, the riding was at a slower pace, but keep in mind that she is 9 y.o., and has only been out on her quad 5 times. That's not too bad in my book!
We got a late start on Sat., and arrived at the staging area around 4pm, set up camp, and she rode around the staging area a bit, to "get herself warmed up". lol. We took a short ride for about an hour, had a nice dinner, played a couple games of checkers,(yeah,…she kicked my butt), watched a good movie, and hit the sack.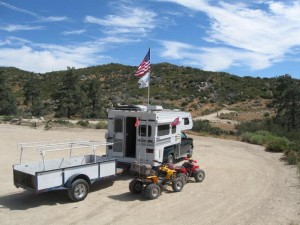 (I had to toss this one in to show off my RV.NET flag)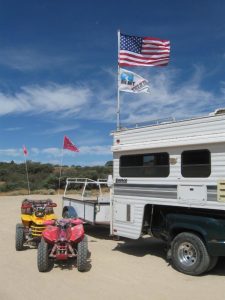 Morning came, and I made a big breakfast with her favorite cheese filled brats, toast, and a big skillet of her "homegrown" eggs. (We recently got some pet chickens in the backyard, and they have just started laying, so it's kind of a "big deal").
Time to RIDE !!!
We got suited up, (of coarse,…I left my riding pants and jersey at home, DUH!), and we headed out. We took it real easy, and spent some time talking about various terrain, techniques, and how to stay in control of your machine.
She was a little spooked by some of the deep ruts in the steeper downhills, (UHhh, Yeah,… ME TOO), and she did get dumped one time. No major casualties, a little ouch on hitting the ground, She cried for a second, got up, walked it off, and was good to go. We talked again, she listened very well, and learned quickly about using her front brakes ALONG WITH her rear brakes, and avoid getting hooked into a rut.
We ended up riding for SEVEN HOURS !!! She impressed the HECK out of me !!! We took an occasional break, ate some snacks, rode some more, and made our way to Deep Creek. We hung out there for a while, chugged down some Gatorade, our favorite Macaroon cookies, and hit the trail again.
From Deep Creek, we back tracked to Devil's Hole.
We had another talk about using low gear and brakes before heading down the long decent to Devil's Hole. I told her to stay close to me, go slow, and if she got scared to call out to me, and we would stop. She did FINE ! Made it all the way down, (we parked just shy of those last huge rocks at the lower end of the trail), and walked down to the water.
There, we sat in the shade, relaxed for a while, fed the fish, and ate lunch,,… (that's the really nice part of having the rear cargo bag on a "Sport" quad,… I can pack food, drinks, and munchies, for a week! lol.) …and cooled our toes in the water.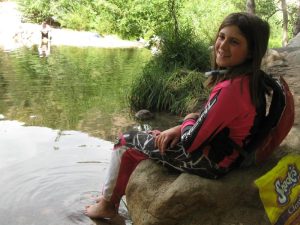 From there, we started to head back towards camp, and had a most enjoyable ride along the way. On the entire trip, I only had to ride her quad for her, over one little 40′ long section. (It had a nasty sized rock right next to a really deep rut, so I figured why take the chance).
Other than that, she rode her own quad the entire weekend, and never whimpered once !
Our Motto is,… No Wimps, No Whiners, No Wussies.
One more little rest break…. Then push on back towards camp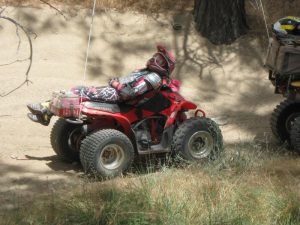 Cameron was quite the impressive little trooper, but she was certainly plumb tuckered wore out when we made it back.
Does it show here ???? LOL!!!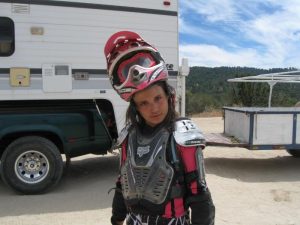 A change of clothes, a quick drink of water, and she was ready to do a few "Victory Laps" to celebrate her first Big All Day Ride…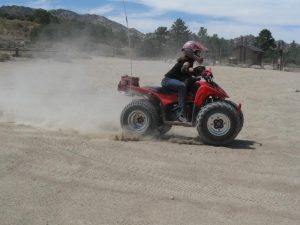 yeah, OK,… I took a few Celebration Laps too…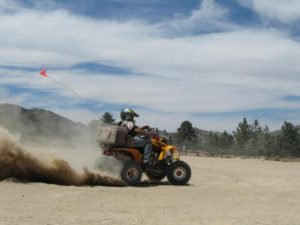 We cleaned up, had some good dinner, watched another movie, got my butt kicked again in another game of checkers, and got ready to do it again on Monday morning, before coming home. We both had a FANTASTIC time, and again,.. Thank You all, for pushing me towards Pinnacles, for this weekend. It was the PERFECT Choice.
When it cools down, Husky Monument is next on the list…..
Ride Hard, Ride Safe,and Keep the Rubber Side Down…
Ron & Cameron"
Tags: daughter, family, Father, motorcycle, off-road, OHV, San Bernardino, toy hauler, toyhauler, trailer
Trackbacks
Leave a Trackback