Dometic Portable Coolers Go High-Tech, No-Mess
Press Releases
— By
awilson
on May 17, 2010 at 12:30 pm
For Immediate Release
ELKHART, Ind.
– Dometic introduces two Thermoelectric Coolers that keep food and beverages cool on the go. The lightweight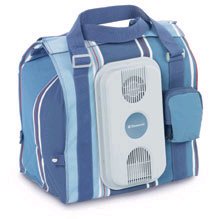 coolers easily plug into a car, truck or RV's 12-volt power outlet. With no moving parts, they are virtually maintenance-free and cool their contents without the mess of ice.
transfer heat from the inside to the outside to cool the interior, with heat exchangers and air fans further enhancing cooling capacity. Their high efficiency makes them eco-friendly, and they are not sensitive to motion or tilting.
The S28 soft-side cooler keeps refrigerated items at an ideal temperature during picnics and long summer shopping trips. Available in either blue or orange stripes, the lightweight cooler features an adjustable shoulder strap and a large exterior pocket. Velcro straps come in handy while shopping, allowing the user to fasten it into a shopping cart to keep it firmly in place. It can hold up to 28 liters and can cool up to 27 degrees Fahrenheit below ambient temperature.
The TF-14 car cooler has three large outside pockets and an adjustable shoulder strap. It holds up to 14 liters and cools to 45 degrees Fahrenheit below ambient temperature. Find more details about these coolers and where to buy them at
www.Dometic.com/Coolers
.
Dometic Group is a customer-driven, global provider of leisure products for the RV, automotive, truck, marine, lodging and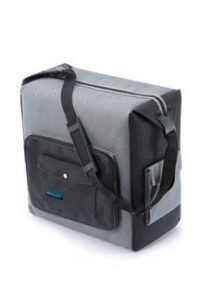 medical markets. Dometic supplies the industry with a complete range of air conditioners, refrigerators, awnings, cookers, sanitation systems, lighting, mobile power equipment, comfort and safety solutions, windows, doors and other equipment that make life more comfortable away from home. Dometic also provides specially designed refrigerators for hotel rooms, offices, wine storage and transport and storage of medical products. Dometic products are sold in almost 100 countries and are produced mainly in wholly-owned production facilities around the world. For more information, contact Dometic at 574-294-2511 or visit
www.DometicUSA.com
.
Contact:
Brad Sargent
Vice President, Marketing
574-294-2511
Barb Riley
BJ Thompson Associates
574-674-6300 x505
Tags: Dometic, press release
Trackbacks
Leave a Trackback