With Carli suspension, is it a toy or tow vehicle… or both?!
Accessories
— By
staff
on April 19, 2010 at 4:16 pm
Story by: Robert Jordan
TRUCKS! We love our trucks. As tow vehicles, an extra vehicle in our garage, or as a daily-driven vehicle, if you're reading Toy Hauler Adventures then chances are good that you love trucks, too.
A lot of folks buy a new truck, hang onto it for a few years, then trade it in on a newer model when that "new car smell" is gone. But tough economic times means that increasing numbers of us are hanging onto them for a longer period of time. Preventive maintenance can keep a modern truck on the road for a very long period of time.  But there are things that can slowly degrade over time, things that may make you wish for a new truck when all your current truck needs is a little re-freshening. Things like suspension components.
Some trucks, especially ¾-ton trucks and up, aren't exactly known for having a good ride quality. Does your truck seem to ride a little bit rougher these days? Does your truck ride rougher than it did when new? There are little things you can do, like new shock absorbers, that can help bring restore the ride quality. But for relatively little money compared to the price of a new truck, you can do something that will make your truck ride and perform even better than new.
Enter Sage Carli, owner of Carli Suspension Systems. If you've got a Dodge Ram, then you've likely heard of their first-to-market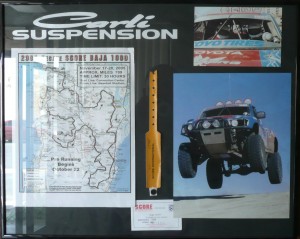 technologies, such as long-travel airbags and hydro-pneumatic bump stops. And now he's branched-out to Ford Super Duty owners as well. More than just a typical "lift kit" that raises your truck but makes it ride rougher and, often, offers little more capability than stock, Carli Suspension Systems are just that – suspension systems that are engineered to provide increased performance. And because we all have different needs, Carli offers a variety of systems – from street oriented to Baja-ready – that can be tailored to suit your requirements.
For this article, we started with a 2007 Dodge Ram 2500 4×4 with a Cummins Turbo Diesel, Quad cab with an 8-foot bed. The vehicle is not only used as a tow vehicle, it also sees light off-road duty (in other words, "don't wreck the tow vehicle!") and is daily-driven on the freeways of Los Angeles, CA, known for their punishing concrete expansion joints. Quite a range of uses, that's for sure. The vehicle had approximately 30K miles and was completely stock. At this point, the factory shock absorbers were having difficulty dealing with the combination of a heavy vehicle, solid axles and stiff OEM spring rates.
Once we told Sage how we used the truck, he recommended his Performance 2.0 Suspension System. This is his smoothest-riding on-road system that also dramatically increases off-road capability. Major components include: 2-inch Bilstein 7100 Series remote-reservoir shock absorbers custom-valved at Carli's shop; Carli multi-rate front coils; plus we upgraded to a custom progressive Deaver rear spring pack, built to Carli's specs. Total lift for this setup is about 3 inches in front, 1 inch in back, and a nice, level appearance. To handle our towing needs, he also recommended his long-travel airbags. Unlike typical "stacked donut" airbags that limited suspension travel, Carli's long-travel airbags support up to 12-inches of suspension travel. Installation was handled by the crew at Carli's Facility in Orange, CA, and took the better part of a day.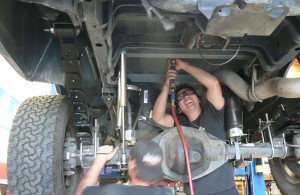 Now that we've lived with this setup for several thousand miles over the last few months, we can report that this suspension system delivers as-advertised, and then some.
Big dips and undulations in the road that had the factory suspension repeatedly moving up-and-down like a pogo stick – plus an uneasy feeling of lack-of-control behind the wheel – are now well-damped and controlled. You know those dips in the road that you usually have you hitting the brakes (or wishing for a kidney belt)? Well, you can still slow down for them. Or don't. It really doesn't matter, because this system soaks them up, spits them out, and asks "is that all you've got?" It's really quite amazing, and this isn't even Carli's "hardcore" setup. Off-road, the system is just incredible, significantly better than we had anticipated. It handles hard-pack desert terrain and even the sand highway at Glamis with composure and allowed higher speeds that we would have thought possible with a "street" setup. But the real merit of this setup is the street ride. It's not one of those "I think it's better" situations. It's a night-and-day difference. Very compliant and quite livable day-to-day.
A caveat: We don't want to give you unrealistic expectations. These are ¾-ton trucks, and will never ride like a luxury sedan. Freeway expansion joints will never go away, and you will feel them. But it will be the finest-riding ¾-ton truck you've ever been in.
Now let's get to the towing:
Our toy hauler is a 23-foot bumper-pull that, loaded up, weighs-in at about 10,500 lb. Well within the towing capacity of the truck, but a good-sized load nonetheless. So how'd it do? Huge improvement! Granted, our vehicle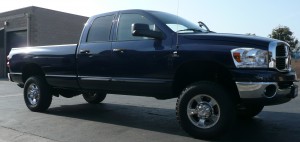 didn't have airbags to begin with, and clearly any airbag helps with towing. But our vehicle also didn't have anywhere near the off-road capability, or smooth street ride, of the Carli Suspension system. Carli's long-travel airbags just make sense. Why pay for a suspension system, only to compromise rear travel and articulation with conventional airbags? Under load, rear-end squat is gone. Body motions over dips in the road are easily dispatched when both truck and trailer encounter them. Potholes and rough pavement are a piece of cake. And stability in the crosswinds of the CA high-desert areas is outstanding. The truck has always towed this trailer very well. But it's much better now, with superior control, something felt by both the driver and passengers.
Every Carli system can be custom-tailored to suit your unique needs. And every system is fully upgradeable, making it future-proof should your needs change. From their basic Starter Kit, to the Performance 2.0 system on our test truck, to their gonzo Bilstein 2.65 and Dominator 3.0 setup with King Shocks, Carli Suspension can put together a setup that will make your truck significantly
better-than-new…at a fraction of the cost of a new truck.
Front suspension:
Rear suspension with airbags: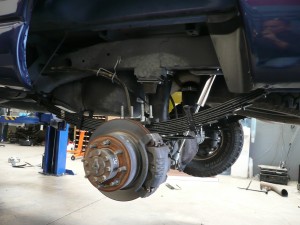 Tags: 4x4, after-market, review, suspension, tow, Truck
Trackbacks
Leave a Trackback