54th Annual March Meet Drag Race at Famoso Raceway
Weekend Adventures
— By
Kevin McKenzie
on March 10, 2012 at 8:38 pm

I spent last weekend at world famous Famoso raceway near Bakersfield, Ca. to watch the world's largest nostalgia series drag race. I had two goals in mind; watch the best top fuel dragsters and nitro funny cars go head to head on a new 1/4 mile track and to check out how the fans have fun between heats and after hours. I was not disappointed. It may be second nature to those who've grown up attending this type of race but I was simply blown away by the deafening sound, the smell, and the concussion you feel in your chest as these beasts launch off the starting line. In my opinion there is nothing else like it.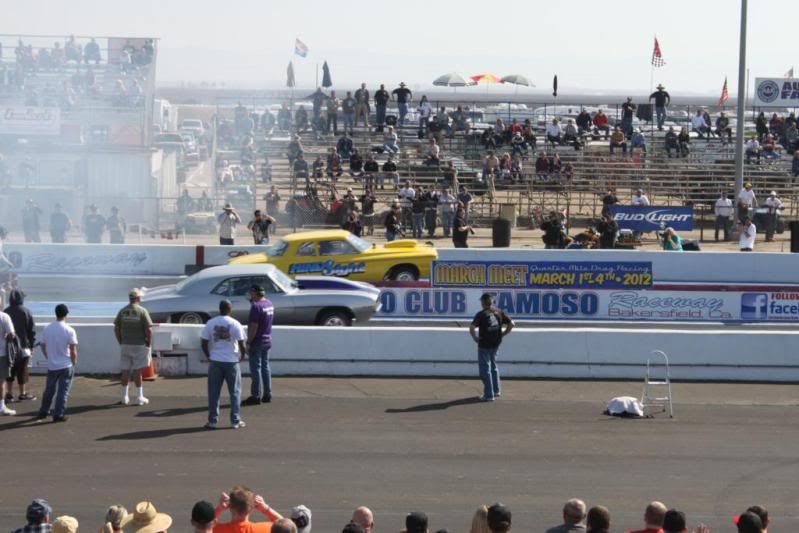 We arrived early on Tuesday afternoon to setup the Toy Hauler in the section reserved for vendors and race teams. Camping with no hookups cost $105 for the 5 nights on a grassy/dirt field adjacent to an orchard. General camping is available for the same cost on a first come first serve basis on the opposite side and adjacent to the track. This gives early birds a chance to watch the races from the ramp or roof of their Toy Hauler. To get the prime spots however you must be willing to spot your trailer in line in the parking lot up to six weeks in advance. I spoke to several fans who did just that and to them it's well worth it. I learned that it's an annual tradition that many of them have been doing since childhood.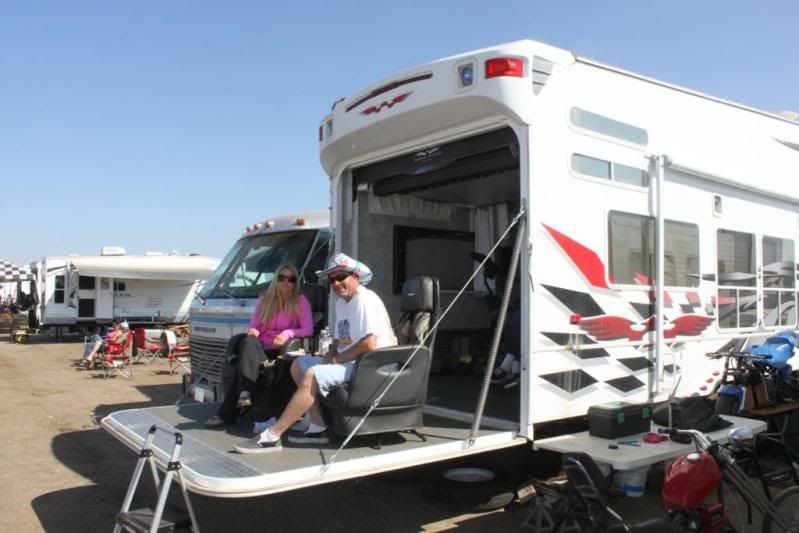 One of the unique qualities of this event is that fans can freely travel in their UTV, golf cart, or quad to the pits to view race crews in action working on their cars between races. And if you didn't bring one, you can rent one. In between the track and the pits there is a section where owners can show off their classic car and a swap meet where you can rummage for that old part. There is also a vendor row immediately adjacent to the pits

where you can shop for race parts, gear, and tools but it's not just for the guys; there are plenty of shopping opportunities for the ladies as well.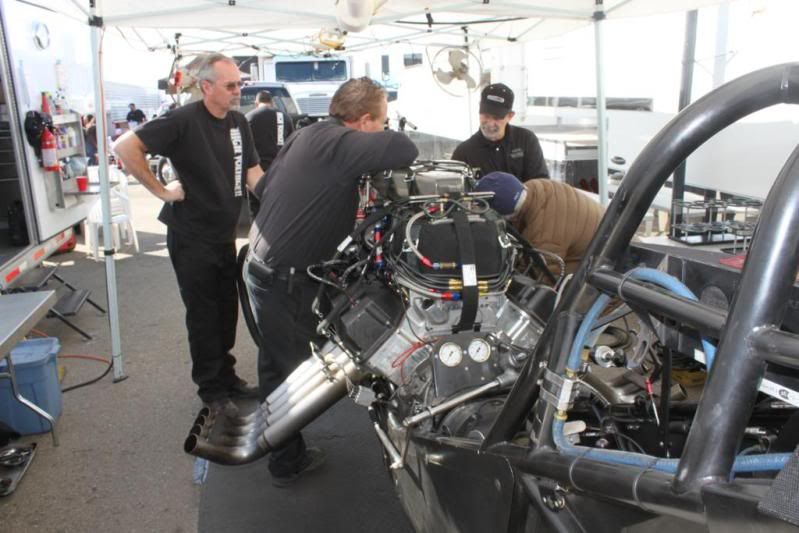 On Saturday the large crowds begin to show as the drag racing gets serious. My advice is to get there early and sit towards the middle of the track. Here you have a good view of both the start and the finish. Bring a set of earplugs, some beverages, and some kind of seat cushion. The drags wind down after dusk each day but the action doesn't stop there. Each camp goes to work cooking its meat of choice and as the night winds on everyone trailer hops. We crashed one party that was cooking a full size pig on a trick homemade mechanical spit and one camp even had a live band. Suffice it to say that a good time was had by all.

On Sunday the racers in each class with the highest times go head to head to determine the champion. In the end it was Tim Boychuck of Edmonton Alberta in his '77 Firebird beating out Chad Head to win the Funny Car Eliminator Class. Tim covered the 1/4 mile in 5.803 seconds at 243 mph. In the Top Fuel Eliminator class it was Jim Young of Salem, WI beating Rick White. Jim did the 1/4 mile in 5.684 seconds at 249 mph. For more results and details of the race visit http://www.famosoraceway.com/
The 2012 March meet was a great time and will definitely become an annual tradition for us, one that I highly recommend.

To view more photos visit http://s145.photobucket.com/albums/r237/kevlarzbucket/
Tags: camping, drag racing, Famoso Raceway, racing, Toy Haulers, toyhauler
Trackbacks
Leave a Trackback