$4 a Day – Yamaha's new EF2000iS portable generator
Accessories Hi-lite
— By
sbutera
on May 10, 2011 at 7:03 pm
The Argument
$4 a day. That's the argument for a 2000 watt portable inverter/generator; about a gallon of gas will power your TV/DVD and stereo, make coffee, nuke a pot pie and yes, charge your batteries. The flip-side (depending on who you ask) is somewhere around 4 to 6 times as much gas with a "built in" 4K or 5.5K generator not to mention the noise differences. So when gas hit $4.15 a gallon (again) it was time to re-evaluate the small generator, again. My choices were limited once I ruled out the "more affordable" Chinese models that by all reports were barely surviving their warranty period. I chose the Yamaha EF2000iS because the color matched my eyes and my rig (although the Honda would match my eyes most mornings).
Features
Truthfully, there are only a few differences between the Yamaha EF2000iS and Honda EU2000iA generators; they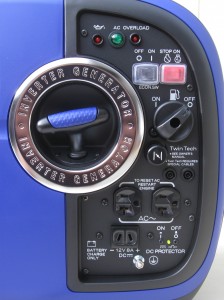 both generate 13.3 Amps and 1600 Watts of continuous power through a built in
inverter that provides clean household-grade power, both are super fuel efficient and quiet although Honda's specs boast a longer run time and being slightly quieter when in full power mode but I'll address that later. The main reason I chose Yamaha was because the EF2000iS has a gasoline petcock allowing you to run the carburetor dry before storing and it has a built-in fuel gauge, features not found on other units in its class. Also included is a 12v battery charging harness for directly charging batteries from your generator. Yamaha makes it easy to connect a pair of EF2000iS in parallel with their Twin Tech cables giving you a single 30amp unit capable of running just about anything in your trailer. When you don't need that much power just unplug the Twin Tech cables and you now have two fully independent generators.
Setup
While un-boxing the unit it becomes crystal clear that Yamaha ships the EF2000iS without any oil. There are labels everywhere and even a tag covering the starter handle warning you to add oil before starting. Unfortunately, Yamaha does not include oil in the box but I'd rather have the $17 battery charging cable than a quart of oil. After adding shy of a quart of oil, I filled the gas tank watching the gas gauge slide from E to F, very nice! Next I installed an optional digital hour meter that will help me adhere to the recommended maintenance schedules. That's it; she's ready to fire up for the first time.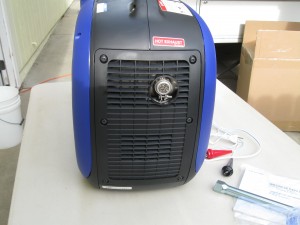 First Start
Following the manual:
1. Turn the Economy Control switch off
2. Open the vent in the Gas Cap
3. Turn the Fuel Valve to on
4. Turn the Engine Control switch on
5. Pull the Choke
6. Pull the Recoil Starter
One pull was all it took, she fired right up and after a few seconds the choke was no longer required and then I engaged the Economy Control. Nothing. The EF2000iS kept racing along at a high RPM. While I was reading the manual to determine what I might have done wrong, the engine dropped into Economy mode. According to the manual this is by design, the economy mode is bypassed until the motor reaches proper operating temperature.
Testing
With the Yamaha connected to my Toy Hauler it was time to test. Because the EF2000iS is an inverter/generator with Pulse Width Modulation (PWM) control, it can safely run products with built-in
microcomputers where a construction generator would wreak havoc on power sensitive items like DVD players, game consoles and LCD TV's. Since my stereo is 12v and I don't have a TV, I tested it on my laptop without it ever leaving Economy Mode while I watched a DVD. Next in line was the microwave, coffee maker and ceramic heater each rated at 1500 watts. The generator had no problems with any of them. Of course, trying to make coffee with the electric heater on was a fail, but I expected that. The Yamaha revved up and sputtered to a shutdown quickly. At least I know what the generator sounds like when it hits an overload. Next was the A/C test and as predicted, it just does not have the amperage needed to start the A/C compressor even when the Economy setting was disabled.
First Use
As expected, I liked it. It is relatively light at 44 pounds and easy to carry; easy to start. In my yard it seemed a bit
loud however much quieter than my Onan but when boon-docking in the Northern Nevada high desert just last week it was nearly impossible to hear. I gave this generator a good run over a 3-day period; if we were in camp, it was running. From making coffee and running the microwave to keeping the batteries charged while the stereo played and nearly every light switch in the rig turned on.
Bottom Line
In 3 days the Yamaha EF2000iS went through only 2 tanks of gas; one evening we let it run dry as the overnight temps bottomed out at 12 degrees. Those 2 gallons of gas produced well over 24 hours of
quiet, clean and efficient power; my 5.5k Onan would have gulped down at least 16 gallons in the same time frame. And it's not so much how much fuel I didn't burn in the generator, it's how much fuel I now have to fill the toys, and that's the real reason we are all here!
Let's Ride!
More information and the complete Yamaha generator line can be found at www.yamaha-motor.com
Tags: 2000, 2000 watt, 2000w, EF2000iS, Generator, quiet, review, test, toy hauler, trailer, Yamaha
Trackbacks
Leave a Trackback