Xantrex 1800HF Install
Accessories Hi-lite
— By
dskelton
on September 30, 2010 at 10:37 am
Xantrex Freedom HF 1800
Inverter/Charger Install
By Darryl Skelton;
It all started on my last desert trip in my toy hauler when my wife fired up the generator and found that all the outlets were dead. I started poking around and found that my stock Converter/Charger had shorted out and was tripping the circuit breaker for the outlets. Luckily, with 4 6 volt batteries and a trickle charger, brought along for my Rhino, I was able to make it through the rest of the weekend. So I got home and started doing some research. My list for a replacement was short, as were my funds. I wanted a Charger that had at least 30 amp output and an inverter with at least 1500 watts. I found a few but they were WAY outside my price range. I came across the Xantrex Freedom series Inverter/Charger/Converter. It fit the bill, and how. Here are some of the features.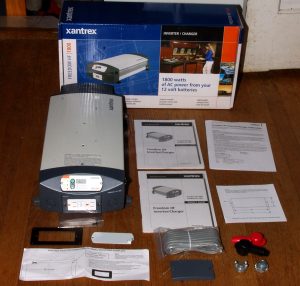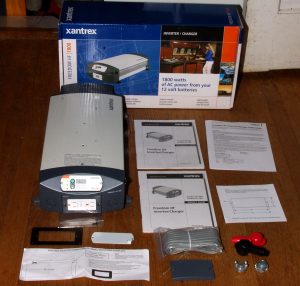 1800 Watts modified sine wave A/C output.
40 Amps of battery charging power.
12 volt automatic three-stage battery charger (Absorption, Bulk, Float)
Remote control panel with led readout.
30 Amp Transfer switch for quick easy hook up.
Best of all, about a $500 street price.
I gave a call to Xantrex to make sure it was going to be perfect for me. After a quick conversation with the tech guys, I ordered one and waited eagerly for it to arrive. While I waited, I started thinking about what, where and how of the installation.
Since you need as short as a run from batteries to Inverter and I have a storage area right next to my batteries, boom it was a natural fit. I started ripping out my old Converter and tossed it in the recycle bin! I made a mounting point and started the install. First it was the 12 volt side, I ran 2 gauge wire from the batteries to 200 amp circuit breaker and then to the Inverter. A nice fat ground cable back to battery. I also made up a grounding cable to the frame.
On to the AC side, I tried as hard as I could to make it difficult. It is EASY, you can run the shore/Gen power line into Inverter and then Inverter to service panel! The automatic transfer switch handles the rest! When you turn the Inverter on it switches over to power out and when you switch it off and hook shore power or turn on the generator, it passes power through and takes a little for charging the batteries. The last part of the job was to install the remote control panel. I installed it near the bed so my wife could adjust our sleep number bed with out getting up and starting the Generator.
Now for a review;
First: the battery charger. If you watch the display, it shows you what it's doing. Bulk, Absorption, and Float/Full. Bulk charge recharges the batteries at the rated 40 amps until it gets almost fully charged, at which point it switches to Absorption charge. It then switches to float charge when it gets to 12.8 volts. Need a recharge, just start the generator or plug it in and the system turns it's self on to start charging! I have had it plugged in for a month at a time and saw hardly any water loss! With my old set-up I would get water loss even though I had a charge wizard.. So, 2 thumbs up on the charge part.
Second: 1800 watts of inverter. Microwave, TV's, DVD players, Digital Converters, and our Sleep Number bed all worked flawlessly!! It's easy to use, press and hold the green button till it beeps and then you are good to go! When done, press and hold green button again! Need a recharge, just start the gen or plug it in and the system turns it's self on to start charging!
Convertor: Well no dim lights or switching bright/dim like some units. No problems on the 12 volt side.
Conclusion: I have used the Inverter on a few toyhauler trips and it has not let me down. My batteries are always fully charged and ready to go. It works better than the OEM Converter/Charger with an add on Charge Wizard and works great as Inverter. I truly recommend this unit if you are looking to upgrade and/or install an Inverter.
If you are looking for an affordable, easy to install and use Inverter/Charger. The Xantrex Freedom HF1800 should be your first choice! Sure you can buy a larger more expensive unit, but why.
Final parts list
Xantrex Freedom HF1800                                     $350.00 (from Amazon)
10 feet of 2 Gauge cable and Circuit breaker           $75.00
30 feet of 30 amp cable                                       $40.00
(I used my trailer power cable, and that average cost to replace)
Total for quiet 110 power                                      $465.00
A bargain in my book..
Tags: 1800 HF, battery, battery charger, charger, converter, inverter, RV, toy hauler, toyhauler, trailer, Xantrex, Xantrex Freedom
Trackbacks
Leave a Trackback