Cooling a Hot Head
Accessories
,
Accessories Hi-lite
— By
sbutera
on May 2, 2010 at 7:15 pm
FYI:Apparently TXCris has taken down his website and there are rumors of "no product and no refund"  This is still a good story and I believe this kit can  be fabricated by other people.  Just wanted to give a heads up about this vendor.
There isn't a definitive answer as to why most '04-'05 GM trucks equipped with an LLY Duramax diesel power plant overheat when towing heavy in summer, the fact is that they do. All I know is that towing up the Sierras in the summer has always been an unpleasant adventure. Rolling down the windows and turning on the heater on a 90* day because the coolant temp hits 230* is not the best start to a weekend trip. My Chevy dealer said it was probably due to my driving technique and there was nothing they could do about it. Strangely, the 2005 LLY motor was less susceptible to overheating and was replaced by the LBZ in 2006 and the overheating problem simply vanished leaving thousands of early LLY owners to bake in their cabs.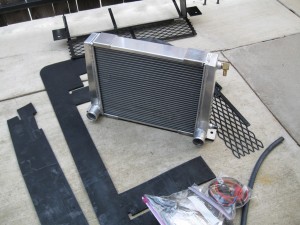 Enter Christopher Shull, or TxChristopher for those of you who frequent GM-oriented diesel forums or his own www.dieselspot.com. Chris had the audacity to take on GM and documenting the LLY's performance on video proving his LLY Duramax was unable to perform to specification while towing near maximum load. After the dust settled, GM ended up paying for Chris' truck. But he did not just tow off into the sunset; his entrepreneurial nose told him there was a need for something to help the other LLY owners as GM was unlikely to give everyone a new truck. Enter the TxC Acme Company's RAD V2 kit with Fan; a custom made add-on radiator that gives the LLY hothead the cooling it so desperately needed.  It's no cheap date at about $1200 but it completely eradicates the overheating problem by placing it in-line with the stock cooling stack.
The RAD V2 fits up inside and behind the front bumper and includes a protective frame of 3/8" steel that would make any off-roader proud. This frame also holds a 3/8" reinforced rubber air dam that directs the air flow up through the radiator when driving. In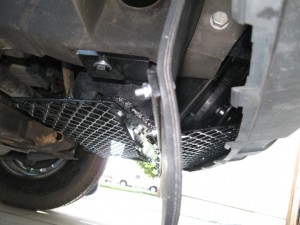 addition to the extra gallon of coolant capacity, the RAD V2 is outfitted with a SPAL 10-blade electric fan mounted to its face that is thermostatically activated at 185*, the fan forces air through the radiator, driving down the core temperature of the engine.
While unpacking the kit I was overcome by the sense I had gotten myself in over my head. Here was this slab of vented aluminum probably 18 inches square and 3 inches thick with a fan mounted to one side, a thick steel cage, a sack of hardware and another full of wires. The design of this kit is actually quite simple; placing the RAD V2 into the coolant flow between the stock radiator output and the engine's water pump inlet. Installation is also relatively easy considering the scope of the project and takes about 6-8 hours for 1 person to accomplish at a relaxed pace. Reading the instructions a couple of times before installing was the key to settling my nerves.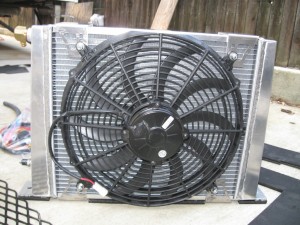 As for how to, here is the Readers Digest version:
-remove the front grill and air dams
-drop the plastic rock shield
-drain coolant and cut the radiator hose in half
-remove the tow hooks
-raise the RAD V2 into place
-connect the new coolant hoses
-raise up the new steel rock shield
-bolt it to the frame along with tow hooks
-wire up the fan, fill, test and burp and top off coolant
Sounds easy? It really is as the instructions are the most detailed, simple, step by step illustrated directions I have ever seen. My only addition was to wire in a dash mounted LED to the fan relay so I know when it's on as well as an override switch to activate the fan manually (to make me feel like I'm doing something more than just driving).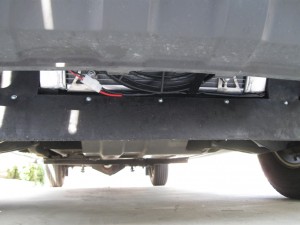 I've only had a short local trip since the install so I'll post an update in June after I tug my rig up Grants Pass to the Oregon Dunes. I've made this trip many times before so I will have plenty to compare against as each trip in the past I have had to endure the ever so annoying and power robbing clutch fan. I am also looking forward to the additional MPG that others claim to get with the RAD V2, a cooler motor is a more efficient motor. In keeping with that, I also added the Cold Air Intake (CAI $65) kit also from TxC Acme Co. This kit blocks the stock air box from drawing superheated air from the engine compartment and channels it in from the fender well and up from the road. Every little bit helps when you are driving a hothead!
I'll post an update in June, until then keep a cool tool and don't let your meat loaf!
Contact Christopher Shull on the forum listed above for more information on purchasing the kit!
Ordering the RAD V2 kit is the same as it was when I purchased mine late last year, send a check by mail. However, after writing this article I have discovered that this is not Chris's primary business, in fact he does this because adding coolant is the only sure fire way to cool an LLY motor, not by water injection or oil coolers. Unfortunately scammers and thieves have taken the pleasure out of publicly producing and promoting his product and he chosen to respond (and will continue to respond) to customers by sending the product when purchased.  Each kit is built to order and can take 4-6 weeks to deliver, the fan is the only off the shelf part, everything else is hand crafted. The price includes shipping and handling.
To order, send check for $1240 for the RAD V2 w/fan to: 
Christopher Shull
P.O. Box 58358
Webster, Texas 77598
To be clear, Toy Hauler Adventures does not endorse or recommend any products, company or service. We simply report on what's out there so you can make an informed decision.
Have fun, be safe but get out there and PLAY!
Tags: cooling, Duramax, LLY, review, tow, toy hauler, toyhauler, Truck
Trackbacks
Leave a Trackback