Dual Sport Conversion Adventures – Part 2
Toys Hi-lite
— By
dskelton
on July 1, 2011 at 10:20 am
A continuation to my conversion to a dual-sport WR-450… (Part 1 here)
Stator and Light upgrades:
In part one, I installed a Barely Legal Dual Sport kit and was ready to move on to the next step. I noticed that the Barely Legal kit does not switch the headlight to DC power and since I now have a switch. I should have talked to Roy at Ryco about this when I ordered the kit to see if we could have done this from the start. So I started looking around to see what I needed to do. I checked Thumper Talk and a few other sites and found out what I needed to do:
1) Wire the Headlight to the battery.
I ran a wire from the battery up to the headlight area and into a relay. I then ran a power wire from the power switch to the relay and then from relay to ground. The last wire went to the headlight switch. Now the headlight comes on with the power switch and not just when the engine is running.
2) Modify or Replace the Stator and Rectifier
I called the guys at Ricky Stator and after a short conversation about what I wanted to do right now and what they offer. They offer the "floating the ground" mod which should provide 75 watts of power for $88 or a rewound stator that offers about 100 watts of power for $150. I felt the stator mod (floating the ground) would work fine with a new rectifier. I am not planning to do any big night rides, but don't want to be scared if the sun goes down during a ride. The process couldn't have been simpler, remove my Stator and send it to them. The Stator comes out super easy, remove the cover and a couple of screws and connectors and done! No flywheel to remove or deal with. Sent the Stator on Monday and had it back later in the week. I reinstalled the Stator and installed the new Rectifier… Now nervous time, nope, no need to worry, it started right up.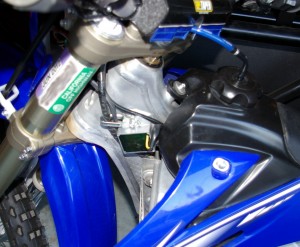 Once started, I checked stator output and was pleased to see 13.5 volts and little over 14 volts as I revved the engine. I then switched on the headlight and WOW it was much brighter than before (Sorry no measurements) But I could tell it was working better and no more flickering at idle! I would recommend the Stator mod for anyone that wants to just ride at dusk or a little beyond. A big thanks to Mike from Ricky Stator and Roy from Ryco Motorsports for all the help.
Tags: Dual Sport, review, Upgrade, WR450F, Yamaha